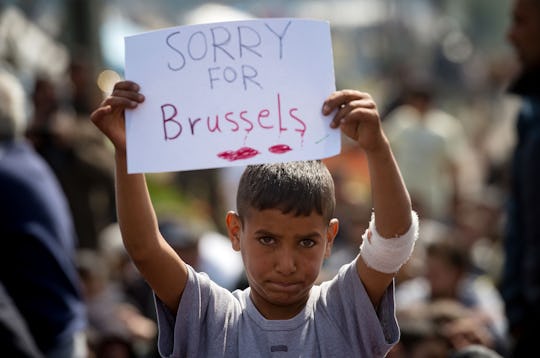 ANDREJ ISAKOVIC/AFP/Getty Images
Verizon Offers Free Calls To Belgium Following Brussels Attacks & It Sends A Powerful Message
In the wake of three explosions set off in two key commuter locations in Brussels, Belgium early Tuesday, March 22, the international community has done everything it can to support the city, people, and hope of the city following the devastation and horror of Brussels attacks. Announced shortly after the attacks, Verizon is extending free wireless and wireline calling from the U.S. to Belgium and Turkey to in order for family, friends, and loved ones to get in touch with those who are living abroad. Verizon's free calls to Belgium following Brussels attacks will hopefully help provide a direct line to those who are searching and trying to get in touch with individuals living abroad that this time in those two locations.
(Update: ISIS has claimed responsibility for the terror attacks in Brussels Tuesday.)
According to the press release announced by the company, Verizon's plan is two-fold: "Wireless users will incur no charges for texts or international long distance calls originating from the U.S. to Belgium on March 22 and 23, 2016, and from the U.S. to Turkey from March 19 and 20, 2016 (applicable taxes and surcharges will apply)," and "Home wireline telephone customers will incur no charges to Belgium from their U.S. landlines on March 22 and 23, 2016, and from the U.S. to Turkey on March 19 and 20, 2016 (applicable taxes and surcharges will apply)." So far the free calls extend through Tuesday and Wednesday, though as information continues to roll out and is made available in Brussels, officials at Verizon could extend those dates.
Jeffery Nelson, head of communications at Verizon, explained to Romper the company's reasoning for the free-calling service:
In this time of uncertainty and great sadness, our thoughts and prayers go out to our colleagues and customers with friends and family in Belgium and Turkey. We all mourn for their loss. Our customers are diverse and globally connected with loved ones around the world, and our employees are honored to support them in our community by having the connection charges waived for the two days following the attacks in both Turkey and Brussels.
Even though I'm sure contemplating international calling costs is about the last thing on anyone's mind when they're faced with worry over whether or not their loved ones are safe (especially on a day so fraught with worry and fear and horror like today), Verizon's decision to extend such an incredible courtesy puts its customers exactly where they belong: front and center.
At a time such as this (and all the other times it happened and will, unfortunately, continue to happen), what matters is making sure that your product provides a seamless, easy, and meaningful way for people to get in touch with one another. That's the beauty of cell phones, and I'd pay any amount of money if it meant that I had a direct line to someone I loved, yet knowing that I'm part of a company that hears and understands that and is making sure I don't have to helps alleviate so much of the stress and worry hundreds and thousands of its customers are likely feeling today.