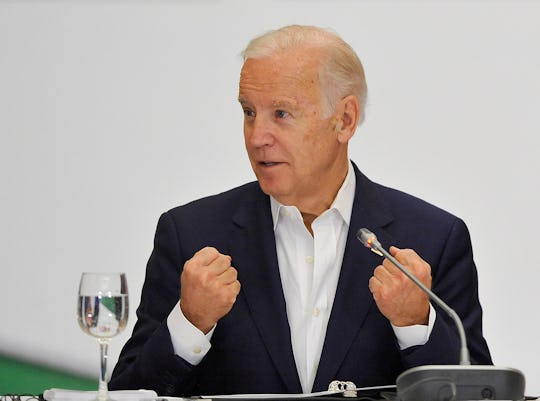 GUILLERMO LEGARIA/AFP/Getty Images
Vice President Biden Says He'll Run For President In 2020, Because What The Hell?
As the country prepares for President-elect Donald Trump's presidency, news of a possible 2020 presidential candidate was released on Monday evening... sort of. According to a report by CNBC, Vice President Joe Biden said he'll run for president in 2020, though it wasn't exactly clear whether his statement was a joke or a wink-wink, nudge-nudge hint at real future plans. Although the vice president says he won't commit to running, he appeared to announce his plan to run regardless because... "what the hell man, anyway." So will he actually make a run for the White House of his own, or was he just toying with everyone's already fragile emotions? (Hmmm, Mr. vice president?)
According to CNBC, Biden told a small group of reporters on Monday night that he is "going to run in 2020." In a tweet published by CNN video producer Elizabeth Landers, a transcription of Biden's conversation with reporters revealed that when the vice president was asked if he was "kidding about running for president," he responded that he's not making any commitments.
"I'm not committing not to run," he said. "I'm not committing to anything. I learned a long time ago fate has a strange way of intervening. Anyway. Nice to see you, and merry Christmas to you all."
Biden represented Delaware in the Senate for 36 years before becoming vice president under President Obama in 2008. If the vice president does decide to run in 2020, it wouldn't be the first time he's run for president either. He ran unsuccessfully for the Democratic party's nomination in 1988 and again in 2008. Biden was also close to running in 2016, but decided against his presidential bid in October 2015. In an interview with CNN this past October, the vice president said that he didn't run for "one simple, overarching reason": his son Beau Biden had died of brain cancer earlier that year. "My son was dying, and he died," Biden said.
Since news of a possible Biden presidential bid in 2020 hit headlines this week, the Twitterverse has, unsurprisingly, responded to the news with a mixture of excitement, curiosity, and uncertainty of its likelihood.
Biden is 74 years old, and if he does run for president in the next four years – undoubtedly the big question of Monday night – he'll be 78. That's not to say he won't still be ready for anything, as he seems to be now, but the age question is one that has perpetually plagued candidates for years, and would likely be raised if Biden ran in 2020 as well.
It seems only time will tell what Vice President Biden's actual plans for the next election cycle will be. One thing's for sure: It's safe to say a potential Biden presidential run in 2020 already has plenty of supporters.