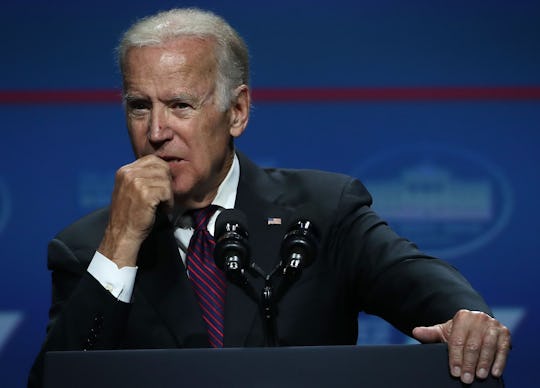 Alex Wong/Getty Images News/Getty Images
Vice President Biden Says Rudy Giuliani's Black Lives Matter Comments Are 'Broad'
Protests fueled by the recent police shootings of two black men — Alton Sterling and Philando Castile — have dominated headlines for the past week, bringing the Black Lives Matter movement back into the mainstream. Plenty of public figures have taken this tense time in the United State to speak on the many issues that have sparked these nationwide demonstrations, including some controversial words from former New York City Mayor Rudy Giuliani, who called the Black Lives Matter movement, the many protests, and the phrase itself as "inherently racist." In response, during an interview with CNN in on Monday, Vice President Biden said Giuliani's Black Lives Matter comment was a "a very broad statement."
"Look what the president said when the Black Lives Matter people in one demonstration said, 'kill the police, the sooner the better,' or some phrase like that. The president condemned it immediately," Biden said in an interview with CNN's Jake Tapper. "But that's not the black community. That group, that element of Black Lives Matter, doesn't speak for all of Black Lives Matter and does not speak for most folks in the black community, both middle class and poor, who know they are more likely to be pulled over than the Caucasian guy."
In an interview with CBS's Face the Nation on Sunday, Giuliani said the Black Lives Matter movement — a group that advocates dignity, justice, and respect — is only causing deeper divisions and racial tensions in the United States.
"It's inherently racist because, number one, it divides us," Giuliani told Fox News on Monday after receiving backlash for his comments. "All lives matter: White lives, black lives, all lives. Number two: Black Lives Matter never protests when every 14 hours somebody is killed in Chicago, probably 70-80 percent of the time (by) a black person. Where are they then? Where are they when a young black child is killed?"
Prominent Black Lives Matter activist DeRay Mckesson spoke with Yahoo Global News anchor Katie Couric on Monday in response to the former mayor's comments, saying the general American public are better off without Giuliani's public service.
"His statements were both a disgrace and an embarrassment to an understanding of racial inequity and definitely racial justice," Mckesson told Couric. "What Giuliani wanted to do is distract people from the real issues of police accountability. He would prefer us to talk about those embarrassing comments and to talk about the fact that police culture has to change and you have to have a broader conception of safety."
The majority of the former mayor's comments were both hyperbolic and false — During his appearance with CBS on Sunday, he said black children have "a 99 percent chance" of killing each other, with no statistical foundation to back up his claims.
Biden's rebuttal on Monday may have helped put a pin in rambling rant of unfounded statistics and racist comments. Just as the Black Lives Matter movement does not speak for the entire black community as Biden pointed out, Giuliani should probably not speak for the entire Black Lives Matter movement either.