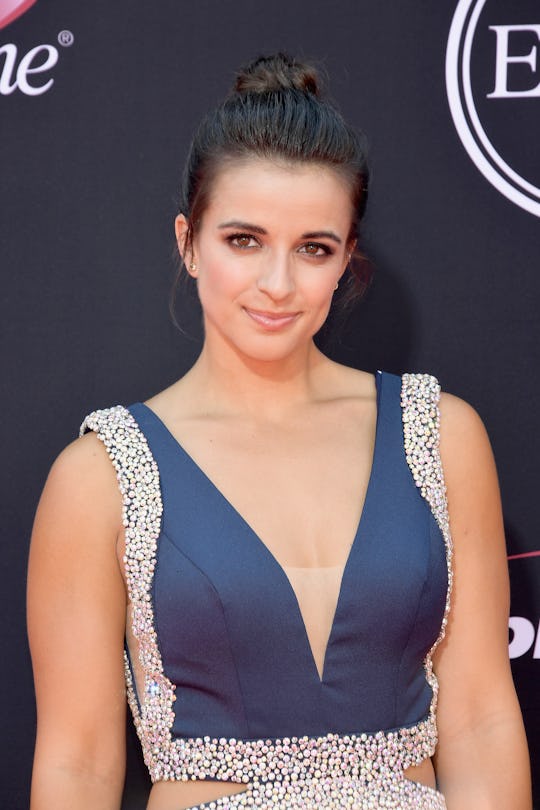 Matt Winkelmeyer/Getty Images Entertainment/Getty Images
Victoria Arlen's Emotional Backstory Is So Inspiring, 'DWTS' Fans
It's true that certain contestants on Dancing with the Stars are somewhat favorited to win — Olympic gymnasts and figure skaters, for example. However sometimes a contestant comes on and defies the odds, pulling ahead even when you think it shouldn't be possible. Victoria Arlen's emotional backstory proves that this Dancing with the Stars contestant is not about to let anything hold her back. And I mean anything.
A few seasons back, deaf model Nyle DiMarco defied what everyone thought by taking home the Mirrorball trophy, even though he couldn't hear the music. Well, Arlen is about to one-up him. She can't feel her legs. This inspiring woman first gained fame after winning big as a swimmer in the 2012 London Paralympic games, when she still could not use her legs or feet. She later became a personality on ESPN. But that is only a small part of the story. When I think about everything that Arlen has gone through to get to this ballroom, starting from when she was 11 years old, I honestly just want to give her the Mirrorball trophy right now. Honestly, I already know that she's worked ten times harder for it than anybody else on the stage.
In an essay for ESPN, Arlen goes into detail about her journey. It all started when she started to get sick at age 11. Slowly she felt her body slipping away from her until she fell into a coma that lasted for two years. The doctors said she would never come out of her vegetative state. "Two years later, I woke up inside a body that could not move. I was locked in. I could hear the conversations going on around me, but I had no way of alerting anyone that I was aware they were there," she explained. She spent four years in this nightmarish state. It turns out Arlen was suffering from two equally rare diseases, Transverse Myelitis and Acute Disseminated Encephalomyelitis that caused swelling in her brain and spinal cord.
Though she'd woken up, doctors still believed that she'd never be able to walk again, as the feeling had still not come back to her legs. "I'd already overcome the impossible. I'd woken up and re-learned to live. My idea of what is possible had changed," Arlen continued. "When my doctors said I would never walk, I didn't believe them. I knew I wasn't meant to spend my life in a chair." So after years of training and working with the paralysis recovery center called Project Walk, Arlen took her first steps without help in March of 2016, though most doctors agreed that there was no hope. I'd be willing to bet that these same doctors never thought she'd be competing in a dance competition either.
Luckily, Arlen is partnered with Val Chmerkovskiy, whose charm and patience can make anybody a good dancer. Chmerkovskiy always seems to be completely enamored with his partner, and this season is no different. Although obviously, working with a partner who can't feel her legs presents a specific set of challenges for an instructor and choreographer. "I have to be a better teacher, a smarter choreographer, her and I have to really have to work together so I could get an idea of how to translate my methods into this unique situation," Chmerkovskiy said to E! News. "She can't feel her legs or her feet and dance has a little bit of both those things."
Yes, dance does have a little bit of legs and feet to them, but something tells me that Arlen is going to be the one to beat this season.
Watch Romper's new video series, Romper's Doula Diaries:
Check out the entire Romper's Doula Diaries series and other videos on Facebook and the Bustle app across Apple TV, Roku, and Amazon Fire TV.