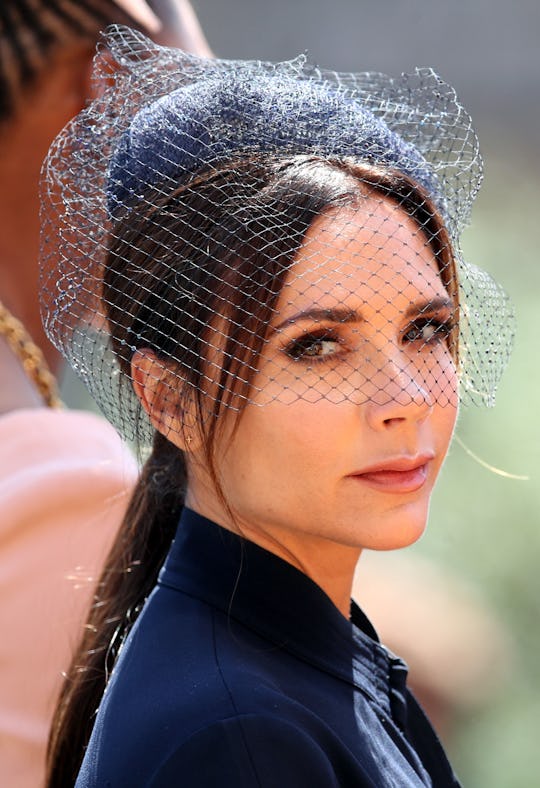 WPA Pool/Getty Images Entertainment/Getty Images
The Reason Why Victoria Beckham Was Recently "Mommy-Shamed" Is Ridiculous
Victoria Beckham is a businesswoman, model, Spice Girl, and mom. And unfortunately, as a mom, she's no stranger to "mom-shaming." Just as one example, Beckham is being "mommy-shamed" over a recent picture of her son, Brooklyn, and the controversy is truly ridiculous.
Victoria and David Beckham have been married for almost 20 years, and share four children together: 19-year-old Brooklyn, 15-year-old Romeo, 13-year-old Cruz, and finally, their 7-year-old daughter, Harper. The family seems to really enjoy spending time together, if recent photos are any indication, which some parents know can seem rare when you've got a family featuring so many teenagers.
That's part of the reason that it's so ridiculous that a recent photo of Victoria and Brooklyn is getting so much backlash. On July 25, Victoria posted a photo of herself in the car with her son, where Brooklyn is driving. She jokingly captioned it, "Contemplating how to rate today's Uber driver 🤔 #whynoshirt," because her teenage son is not wearing a top in the photo.
The problem, for so many people who chose to comment on the post, wasn't that Brooklyn was shirtless. It was that he happens to have a ton of tattoos that were shown off in the shirtless photo. Because God forbid a young adult have some tattoos, I guess?
Yes, it's true that Brooklyn has several chest and arm tattoos in the photo. But he is also 19 years old, and allowed to get as many tattoos as he chooses to. It's his body, after all, and let's not forget that his dad has a ton of tattoos, so it's probably a very acceptable form of body modification and celebration in their household.
But some people on Victoria's Instagram post were not pleased with the art Brooklyn has decided to add to his body. They took it up with the model in the comments on her post, because apparently she needs to "approve" of such things for her son, who, again, is legally an adult.
Replies ranged from "The parenting of these kids seems so laisse fair [sic] but sometimes people should stop and think about whether they're moving too fast," to "As a mother, I would have NEVER posted a picture like this. Nothing to be proud of" and "@victoriabeckham please dont let your children get too many tattoos." And at least one said, "Did you approve all those tattoos?"
It's very weird to me that so many people took the time to criticize Victoria for posting the picture and for "letting" her son get so many tattoos. The truth is, Brooklyn is an adult, and can make these choices, and it's super strange that strangers on the internet think it's OK to mommy-shame Victoria because of those choices.
Thankfully, a lot of people also hit back at the haters in Victoria's comments. People defended Victoria and Brooklyn with comments like, "Nice ink😁what a lovely picture mother and son," "Not many 19 year olds want to spend time with their parents. What a fabulous young man. Great Tats!!," and "mind your business, it's his body, not yours!"
Out of all the things people can be "shamed" for when it comes to their kids, the fact that some people have an issue with Victoria because her son, who is legally allowed to make these decisions, has tattoos, is an especially odd choice. It's really not anyone's business in the first place, and the truth is, Victoria doesn't really have a say over whether or not Brooklyn gets tattoos, or piercings, or whatever else he chooses to legally, safely do to his own body.
There are a lot of things parents have to worry about when it comes to their kids. It seems like Victoria and David Beckham's children are happy, healthy, and enjoy hanging out with their mom. Those are all good things. It's too bad that people can't just enjoy a sweet moment between mother and son that Victoria shared with the world.