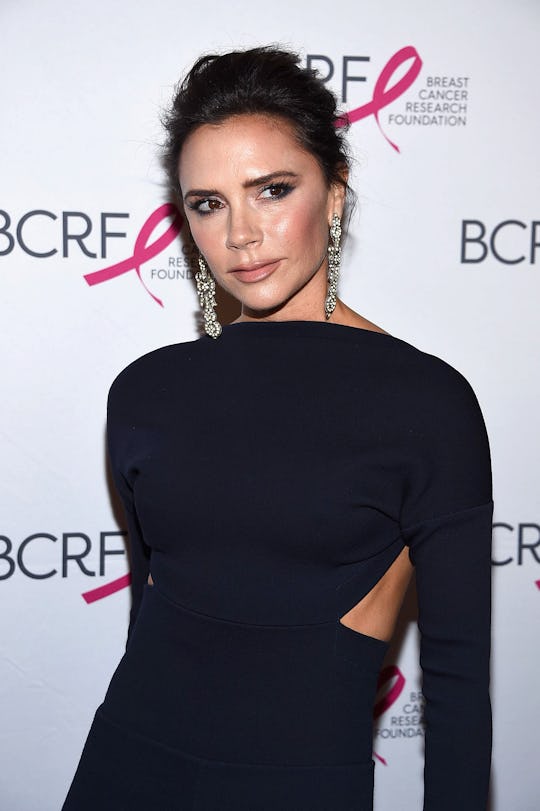 Dimitrios Kambouris/Getty Images Entertainment/Getty Images
Victoria Beckham Reminds Moms Why It's Important To Go Easy On Themselves
Raising a family isn't easy. Raising a family who also happens to be under public scrutiny for the entirety of their lives is a feat too difficult for most of us to comprehend (truly imagine having every blunder and slip up and tantrum being watched and policed by the world at large... it's pretty intimidating). But some families in Hollywood have seemed to master this unique way of parenting, and are sometimes willing to share their best kept secrets and hard-earned wisdom. For instance, Victoria Beckham wants moms to go easy on themselves, because the days are long and kids are challenging, and in the end, we're all doing the best we can.
While attending London Fashion Week to debut her 10th Anniversary Collection, Beckham sat down with E! News and gave this pretty perfect advice about parenting: "Just don't feel bad. Just don't feel guilty. We're trying to do the best that we can," Beckham shared. "You want to be the best wife, the best mom, the best professional and just be good and kind to yourself."
She went on to say that her family's support means everything to her, and that after she saw them from the side of the runway, she "got so emotional." According to E! News, she continued: "I really did... You work so hard for a long time and you want to do the best that you can do."
While at the show, David Beckham snapped a photo of their family sitting in the front row, and said on Instagram: Proud of mummy x 10 years and what an amazing way to celebrate in London..."
Many fans of the family will probably know that they are notoriously well-behaved and polite children, which Beckham says is not something that happened effortlessly. "We are strict with the kids," she said in the same interview. "You have to be, but at the same time still allow them to have fun and express themselves."
This isn't the first time Beckham shared her sage advice with the world. Back in 2015, she told The New York Times that despite being a working mother, she has absolutely no guilt about going to work and maintaining a life outside of being a parent.
In the interview, according to The New York Times, Beckham said she had a discussion with friend and fellow mom Diane von Furstenberg: "I said 'Diane, you know, you've always worked and you've had children, did you feel guilty? And she said 'never' and I thought God you're right actually. And she said 'I'm a great mom, but I go to work, end of.'"
In an interview the Beckham family did with BritishVogue earlier this month, Victoria opened up about her kids, particularly, her daughter Harper, and how she manages her fashion, style and makeup. Beckham told the magazine her daughter has been "able to run in Alaïa platforms since she was 3," but that she only plays with them, and doesn't wear them outside the house.
"On one hand, she's quite girly, but on the other hand she has three big brothers and likes to run around and play football. She's not scared of being pushed over," she told Vogue.
And as for her relationship? It's better than ever, despite what you might hear. Beckham continued in the same interview: "People have been making things up about our relationship for 20 years," she said, noting that she and her husband have learned to "ignore the nonsense."
It's true that the media does have a big impact on people, which is why it's so important that Beckham is willing to open up about what it really takes to be a mom, a fashion mogul, and a seriously inspirational woman.