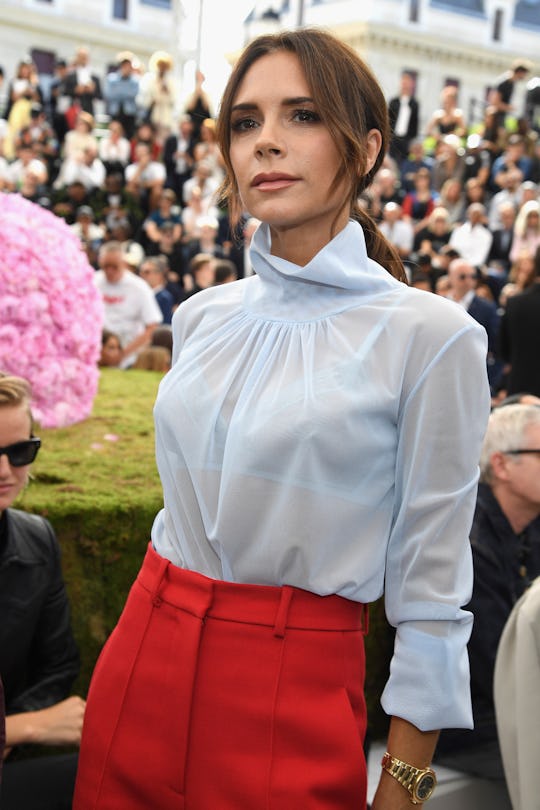 Pascal Le Segretain/Getty Images Entertainment/Getty Images
The Beckham Family's 'British Vogue' Cover Is Major #FamilyGoals
Former Spice Girl Victoria Beckham and her husband, former pro soccer player David Beckham, have been a power couple for more than 20 years now. (Side note: Can you believe it's been that long?) However, another big milestone in the former Posh Spice's life is the 10-year mark of her fashion label. Recently — with the help of her entire family — she marked the occasion with some serious style. And honestly, Victoria Beckham's British Vogue cover with David and their kids is nothing short of #FamilyGoals.
Even at a glance, it's clear by the October issue of British Vogue that the Beckhams' children got their sense of fashion from mom. Because for the first time ever, the cover features Victoria and all four of her kids: Brooklyn, 19, Romeo, 16, Cruz, 13, and Harper, 7, according to People. (The family dog, Olive, also makes an appearance.) As promised by the cover's teaser, Beckham opened up about a variety of topics for her British Vogue cover story, including family, fame, and fashion. "People have been making things up about our relationship for 20 years," Beckham told British Vogue of herself, 44, and David, 43. During this time, the couple has learned to "ignore the nonsense" rumors about them — but that doesn't mean the rumors still don't affect them. "These things have a wider effect on the people around us, and that's unfair," she said.
Beckham continued:
We both realize that we are stronger together than we are as individuals. Would either of us be in the position that we are in now had we not met and been together all those years ago? ... It's all about the family unit. We are much stronger, the six of us, than we would be if we were individuals. We respect that family bond and that is key.
According to ET Online, Beckham also opened up about her daughter, Harper. Apparently, her only daughter has been been able to run in Alaïa platforms since she was 3. (Which isn't totally surprising because this is the daughter of Posh Spice we're talking about, after all.) "[Home]'s where it stays," Beckham noted. "On one hand, she's quite girly, but on the other hand she has three big brothers and likes to run around and play football. She's not scared of being pushed over. She wants to be an inventor."
Not only did Beckham get to have an amazing photoshoot with her fashionable family, but Vogue also made a subtly hilarious, behind-the-scenes video of the fashion icon — which featured Beckham poking fun at her Spice Girls past, ITV.com reported. In the video, the fashionista describes herself as a minimalist. At the same time, she hauls in a truckload of props and mannequins, and pitches elaborate costumes and poses. In one particularly snicker-worthy scene, she described her vision to Vogue editor Edward Enninful, explaining, "What I want, what I really, really want, is me, and four other women." She continued:
One sporty, bit of an athleisure direction; the other one that's younger, lots of pink, pigtails; one that's very glamorous — full on leopard print. And another one that's super super sexy. Got big boobs, red hair.
LOL. Hmm, that sounds oddly familiar ...
And just for the record, I 100-percent agree with this Twitter user, who wrote, "Victoria Beckham might not smile, but she is f*cking hilarious."
Back in the day, Spice World was one of my all-time favorite movies. So it's still hard for me to wrap my mind around the fact that Victoria and David Beckham are coming up on their 20th anniversary, have four kids — and the oldest one is in college. Still, it's clear the family has built a strong bond through the years. And it's pretty awesome all of Beckham's kids could come together to celebrate 10 years of their mom's fashion label. Now excuse me while I scour the internet for a copy of Spice World...