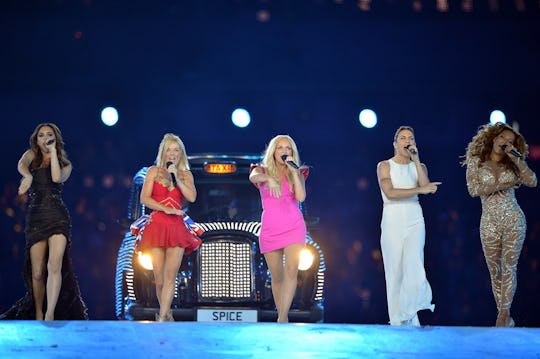 Jeff J Mitchell/Getty Images Sport/Getty Images
Victoria Beckham's Daughter Fangirled Over Spice Girls
Every '90s kid is feeling all sorts of nostalgia after Victoria Beckham posted photos of her daughter fangirling over an old set of Spice Girls dolls. Beckham — possibly better known "Posh Spice" — snapped some adorable shots of her 6-year-old daughter, Harper, learning that her mom was once a pop star. And, like just everyone else would be, she was totally starstruck.
"When you find out Mummy was a pop star!! Xxx," the 43-year-old mother of four posted on her Instagram Story on Friday. In one photo, Harper is seen playing with the iconic set of Spice Girls dolls, featuring Melanie "Scary Spice" Brown in a leopard print number, Geri "Ginger Spice" Halliwell donning a dress with a British flag, Emma "Baby Spice" Bunton in a metallic pink dress, Melanie "Sporty Spice" Chisholm in athletic wear, and her mom — of course — wearing a black mini dress.
"Harper loves her Spice Girl dolls!" the fashion designer wrote over another photo. She then quoted the pop group's anthem "Spice up your life!" in a third post of Harper — the former singer and husband David Beckham's youngest child — playing with the dolls that literally every '90s kid owned at one time.
While it's hard to believe that anyone is unfamiliar with the legendary girl band, Harper — Beckham's only daughter — was born 11 years after the Spice Girls broke up following Halliwell's departure from the group, according to People. The group did, however, reunite for a one off-performance at the closing ceremonies of the 2012 London Olympics, People reported. But Harper was only 1-year-old at the time, so her young memory gets a pass.
In an interview The Sunday Times Style, Beckham opened up about her time with the Spice Girls and what she learned from her years with the group.
"You can have everything one minute and then lose it the next," she told The Sunday Times Style, reflecting on her new career as a fashion designer. "Becoming successful isn't as difficult as sustaining success. I've been given a second chance, I'm not going to lose it again."
During the same interview, Beckham also talked about her parenting style and how spending quality time with her children always take priority — even if hectic career keeps her super busy.
"I think that the kids get harder as they get older the most important thing is to make sure that each child gets the individual attention that they need," she explained to The Sunday Times Style. "I can never to bed early because Brooklyn is always up and that's when I see him, and then you've got Harper who is up super early."
Dusting off the Spice Girls dolls was certainly a fun way spend some bonding time with her daughter. And, it's probably safe to say, the rest of us enjoyed this throwback a bit more than little Harper.