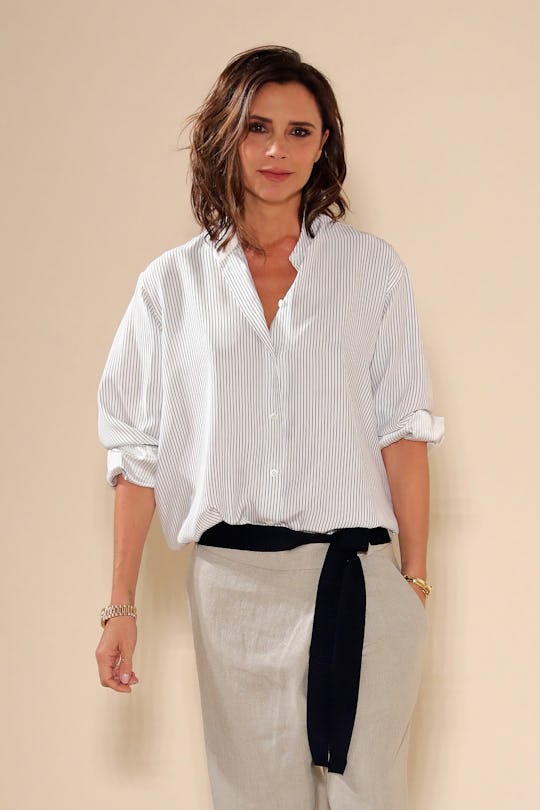 Neilson Barnard/Getty Images Entertainment/Getty Images
Victoria Beckham's Essay To Her At 18 Is Perfect
Most of us will never be as rich, famous, or married to one of the most celebrated sports figures of all time, but that doesn't mean lessons learned over the years by Victoria Beckham don't still apply to the lives of just about every woman. From love, work, children, and career, Victoria Beckham's essay to her 18-year-old self should be required reading for every girl. Not because it offers some formula for achievement in the fashion or music business. But because her message to herself is one universal to all women: be a little kinder to yourself and enjoy the ride.
The letter was published in British Vogue, which is only fitting for the fashion goddess, and gives readers a look into her first shot at stardom, when she met her husband David Beckham, dealing with the paparazzi, raising her babies, and on the importance of a good pair of good sunglasses. It reveals the very human side of a woman the public has come to know for inscrutable glamour, and the result is a look back as the things that helped the English girl who saw herself as "plump" with acne and limited talent and a cadre of bullies, launch herself into a career anyone would envy.
Here's just a few of the best bits of advice Beckham, now 42 years old, would offer her 18-year-old self.
Beckham On Being Bullied
You haven't forgotten being bullied at school, have you? Do you recall that first day at secondary school? Most children were wearing their own coats and had the latest cool bag, but not you. Kitted out in the full St Mary's High School uniform, you stood in the freezing playground while other teenagers walking past threw soggy tissues and old Coke cans that they plucked from the puddles. But the thick skin that you developed then is already standing you in good stead, and it will do so for the rest of your life.
Beckham On Her Weight
Beckham's weight has been relentlessly scrutinized and talked about throughout her career, including a 2016 report in Celebs Now, which accused her of "padding" her clothes to hide her true weight.
At school you eat Super Noodles and boxes of Frosties because they say they are fat free, and you will endure many other silly fad diets (including an addiction to green juices). Instead, learn to embrace your imperfections – that is what I want to tell you.
Beckham On Her Beauty Regimen
Her current routine, according to the Daily Mail, now includes regular workouts, oxygen facials and a strict diet.
Let your skin breathe; wear less make-up. (And don't ever let that make-up artist shave your eyebrows! The effects last forever.) You will always be addicted to Elnett hairspray but you will tone it down. Less of the "Hello! I just got stuck in a wind tunnel", please.
Beckham On Her Body Image Issues
Beckham issued several denials over her breast implants which, ultimately she confirmed she had and then later removed in 2014, according to the New York Daily News.
And I should probably say, don't mess with your boobs. All those years I denied it – stupid. A sign of insecurity. Just celebrate what you've got.
Beckham's Travel Advice
And being young and a bit silly, you'll complain and sit in hotel rooms and moan about being tired. Go out and see the country where you are. Go to galleries, go to museums. Soak up the culture. You are lucky to be there.
On Her Relationship With Her Fellow Spice Girls
Here's what she had to say about the band's relationship in British Vogue.
If you don't join the Spice Girls, you might always be that insecure person in that little shell, and you will never become who you truly are. With this in mind, be kind, be polite, be considerate of others' feelings, because I know that every one of us would sit here now and say they're not the main culprit, but we didn't fully appreciate each other a lot of the time. So practice what you preach when you sing "friendship never ends", and celebrate everyone's uniqueness.
Beckham's Fashion Advice to Herself
You are going to have so much fun with your clothes – PVC catsuits; chokers that say absurd things; weird spiky blonde hair. It will never occur to you that you appear ridiculous. You will turn up at awards ceremonies resembling a drag queen. But I look back at you and smile. It will add interest to your life to go from one extreme to another. I love the fact that you will feel free to express yourself. Fashion will take on added stature one day, but try not to be stifled by it.
On Being A Mother To Her Four Children
According to The Sun, the Beckham kids now range in age from 17 to 5 years old including Brooklyn, 17, Romeo, 13, Cruz, 11, and Harper, who is 5 years old.
Children mean that you will be constantly tired and will develop big bags under your eyes. Your children will always come first, but never forget who you are and what you want to achieve. Is it possible to have it all? To be a successful working mother? You will hear this question asked by many women as you grow older. What you will realise is that by working hard, yet always putting family first, it will be possible to achieve that balance. Nothing will be perfect, but it is only now that I have learnt to appreciate all I have and all I have been blessed with. I am happy.
Her advice probably mirrors what you might tell yourself at 18 years old. It's all going to be fine. Don't be so hard on yourself. You will be happy. Just probably without the addition of how to handle the millions of dollars and paparazzi following your every move. Not all women's experiences are universal after all. But fear and insecurity is something almost every young person experiences, even Posh Spice.