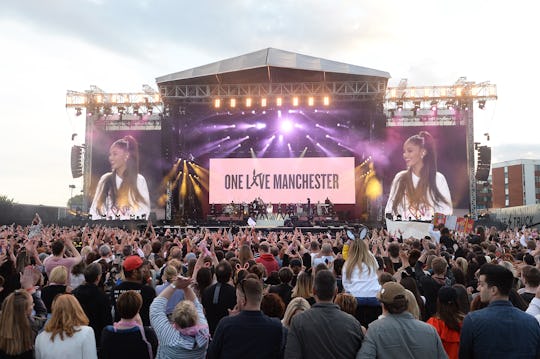 Getty Images/Getty Images Entertainment/Getty Images
Ariana Grande Delivers Emotional "Over The Rainbow" Performance
Ariana Grande closed out her One Love Manchester benefit concert with a seriously emotional performance — and the video of Grande singing "Over the Rainbow" will seriously make you cry. Luckily, if you missed it, it's already everywhere. As it should be.
This will undoubtedly become one of the 23-year-old artist's most memorable performances of her already incredible career. Not only were Grande's impressive vocal chops on display during this emotional performance, but so were her compassionate soul and kind heart. Throughout an evening of passionate and lovely performances from an array of other talented artists, this closing moment truly shone through.
While the song itself certainly has an uplifting message, Grande's genuine emotions elevated the lyrics as she sang. By the end of her performance, the singer was completely overwhelmed. The audience was, as well. As the cameras scanned the crowd, fans had tears in their eyes as they sang along with Grande. When the sang came to a close, Grande thanked everybody for coming to the One Love Manchester benefit and reminded her fans how much she loved them. It was obvious by the loud cheers from the crowd that the feeling was completely mutual.
Grande wasn't the only artist to be overcome with emotion during the night's performance. Throughout the evening, many of Grande's fellow performers addressed the Manchester crowd with tears in their eyes and emotion in their voices. Justin Bieber reminded the concertgoers through tears that "God is in the midst" through all of life's tragedies. Miley Cyrus also became emotional towards the end of her set while performing her new song "Inspired."
In a moment of pure joy, though, all the performers joined Grande on stage while she sang "One Last Time." This particular song took on special significance in the wake of the Manchester bombing with fans sharing Grande's performance of the track from the May 22 show. Grande even re-released the track as a single leading up to the One Love Manchester show and will donate all of the proceeds from its sale to charity. While Grande sang the song at the show on Sunday, all of her fellow performers stood behind her with their arms around each other, dancing, smiling, and singing along to the lyrics.
Grande's final performance was certainly an emotional one, however, the main theme was overwhelmingly positive. The One Love Manchester benefit will be a night to remember. Hopefully everybody in attendance walks away from the show with feelings of hope and love.