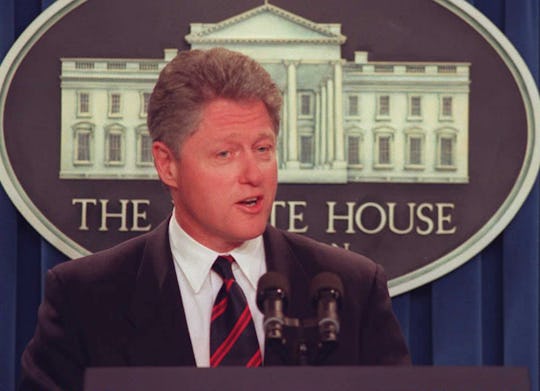 PAMELA PRICE/AFP/Getty Images
Video Of Bill Clinton's Press Conference After The O.J. Simpson Verdict Shows Just How Many People Were Watching
After the O.J. Simpson verdict came down, clearing the former football player of two counts of first degree murder in a nationally televised event, Bill Clinton took his time responding to the single news story that everyone in the country was talking about. Clinton didn't speak on the O.J. Simpson trial for over a week, except to express that he was "very concerned" about the potential for more race riots and that he didn't want to speak up until he got the chance to "really think this through and speak to some people." Eventually, in a video press conference, Bill Clinton spoke of the O.J. Simpson trial, and America finally heard his opinion on Simpson's acquittal: "I have nothing to add to that. I respect the jury verdict."
He also touched on the racial undercurrent of the trial, but only glossed over it, and encouraged black Americans to "get over the pain," as one Los Angeles Times analyst put it. "In terms of the way Americans see the world differently, generally, based on their race, that troubles me," Clinton remarked, adding:
"I think the only answer to that is for us to spend more time listening to each other, and try to put ourselves in each others' shoes, and understand why we see the world in different ways, and keep trying to overcome that. I would say that, even though it's disturbing, we have succeeded so far in managing the world's most multi-ethnic, diverse democracy, better than a lot of countries that are smaller than we are with fewer differences between them."
Of course, we now know that we don't have anything close to a truly "multi-ethnic, diverse democracy" now, let alone what was passing for "diversity" in the mid-'90s. What piques enough interest in the O.J. Simpson trial to kick off a star-studded bio-pic 20 years later is that the same racial tensions between black Americans and law enforcement still persist today. And we are only just now, with movements like Black Lives Matter, beginning to actively listen to black voices and make space for them to center their own experiences — a far cry from us having "succeeded so far in managing the world's most diverse democracy" in 1995.