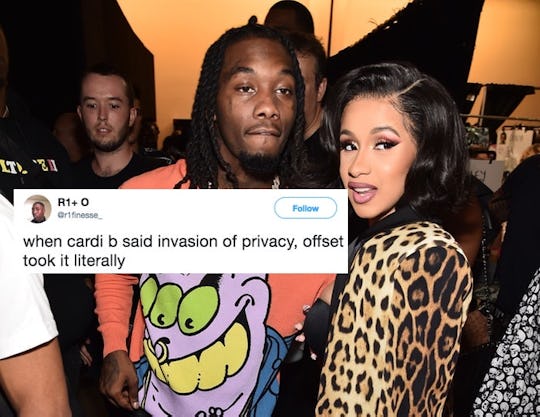 Theo Wargo/Getty Images Entertainment/Getty Images
Twitter Isn't Sure What To Make Of Offset's Video Of Cardi B Giving Birth To Kulture
When the pair showed up at the Grammys on Sunday arm in arm, Cardi B and Offset's relationship was once again thrust into the spotlight. From sharing a child together to rumors of infidelity, the relationship has been the subject of public scrutiny. But a video of Cardi B giving birth to Kulture was just released by Offset and Twitter has some thoughts about it.
While I usually advocate for people minding their own business when it comes to other people's relationships, I have to admit that the video has me asking a few questions of my own.
Offset's video serves as a promotion for his new album and related documentary, according to MTV, and was released shortly after he and Cardi appeared at the Grammys together. Offset and Cardi split after a whirlwind romance involving a secret marriage and the birth of their daughter Kulture, as Elle reported. Following rumors of numerous allegd infidelities on Offset's part, they went their separate ways, according to Elle. Two months ago, Offset loudly interrupted at Rolling Loud, MTV reported, begging Cardi for her forgiveness. The two have released no official statement saying that they are back together, but they were certainly pretty cozy at the Grammys on Sunday.
Take the intimacy a step further, Offset released a short video clip to Twitter, showing never-before-seen footage of Cardi giving birth to Kulture.
Along with it, his record label Quality Control Music wrote, "New album and DOC," along with the date of Feb. 22, 2019.
Suffice it to say, Twitter was a bit confused.
Many pointed out that the timing of Offset's "announcement" seems a bit like an attempt to profit off of Cardi's success. The proud mom and musical icon was nominated for five Grammys and took one home for Best Rap Album for Invasion of Privacy, according to Variety. The win made her the first solo female artist to ever win that award.
But rather than share his support for her success, Twitter seems to think Offset took the title of her album literally and shared a few intimate family moments.
Users also raised questions of consent, especially considering the fact that Cardi was initially uncomfortable posting photos of Kulture as a newborn, as Harper's Bazaar reported.
Another common thread was that using the miracle of life may not have been the wisest marketing strategy. I mean, really, how do you live up to that?
Yeah, a lot of people were thrown off by the video. But the issue wasn't that it showed Cardi giving birth — just that somehow the most excruciating pain of her life somehow translated to an opportunity for self-promotion. He even zoomed in on himself in then video, as one user mentioned.
Even before the birth video was released, Cardi's fans were questioning why Offset was appearing in all of her Grammy photos. One person on Twitter described him as a "leach," who was "sucking the life out of Cardi's magic."
But not everyone was so quick to discredit Offset, though. As one user put it, "Everyone posting about how it is Offset using birth footage, while posting the video, which means it's working, you're still promoting it fam." I mean, they're not wrong.
Another pointed out that Offset is far from the only artist to benefit financially from videos of the birth of their child. The Kardashians have made an art of it, after all.
As of now, Cardi B has not commented on Offset's use of her birth video in his promotion for the upcoming album. And as easy as it is to assume she would be as furious and mortified as I would be, that may not be the case. For all we know, Cardi could be perfectly okurr with the whole situation. Until she says otherwise, I will do my best not to judge. I can't promise not to cringe a little bit, though.