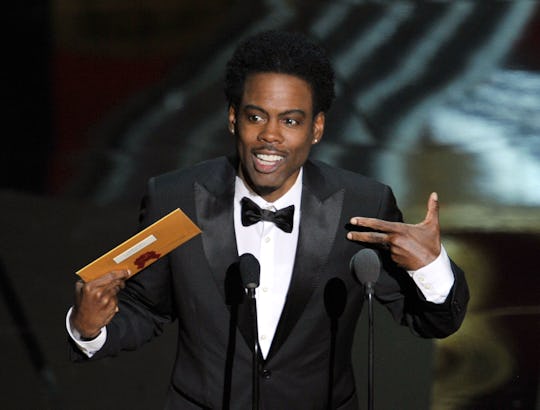 Kevin Winter/Getty Images Entertainment
Video Of Chris Rock's Last Time Hosting The Oscars Show Why He's Exactly What This Year Needs
It's been more than a decade since comedian and actor Chris Rock hosted the Academy Awards in 2005, but he's definitely coming back — and it's a good thing, too. According to Entertainment Weekly, just as he was more than ten years ago, Rock was tapped this year to help liven up an institution that had been in danger of going seriously stale. There aren't many videos of Chris Rock hosting the Oscars in 2005 — the concept of live-tweeting was just taking hold; gifs and short, shareable clips would come a little later — but thanks to YouTube, a few of his best moments are available online and show exactly why it'll be great to have him host again.
Of course, Rock will need to write some new material. But that shouldn't be a problem. Instead of calling out President George W. Bush and the wars in Iraq and Afghanistan as he did in his 2005 monologue, Rock could easily turn to the antics of the 2016 presidential candidates and have plenty of ready-made material. The jokes almost write themselves. But it'll still be refreshing to watch Rock's signature combo of social commentary and quick wit. And, this time, the full power of Twitter will be backing him up online.
But his biggest potential contribution to this year's Oscars is actually hinted at in the first sentences of Chris Rock's 2005 Oscars monologue. At the 77th Academy Awards, the organization recognized a slate of talented actors that included four African-American nominees. When Rock reminded the audience that night that four black actors had been given Academy Award nominations, the camera panned to the faces of several key figures in Hollywood, including Don Cheadle, Morgan Freeman, and Jamie Foxx. "It's kinda like the Def Oscar Jam tonight," Rock joked, referencing the popular show for black stand-up comedians.
He'll need to take a much different approach to the 88th Academy Awards show. The fact that no black actors or actresses got Academy Award nods this year has been the subject of harsh criticism and boycott threats. While Academy president Cheryl Boone Isaacs has promised more diversity in the future amongst the 7,000 members of the Academy of Motion Picture Arts and Sciences, that vow offers little comfort to the artists and actors whose work went unacknowledged this year.
Those who called for Rock to boycott the awards show might not understand his decision to host it anyway. But Rock is one of very few comedians able to call out both the absurdity — and the missed opportunity — of the racial tensions embroiling the show this year. Just watch his 2005 opening monologue to see what I mean:
Of course, none of the diversity issues in the spotlight this year went ignored by Rock the last time he hosted. Rock spent plenty of time calling out the Academy for being out of touch with moviegoers — and black moviegoers especially — back in 2005. In one taped segment, Rock visited the Magic Johnson Theater in Harlem to ask regular people what they believed was the year's best picture. While the video clip showed no one had seen Million Dollar Baby, Sideways, or The Aviator (The Academy's picks for best picture that year), there were plenty of votes for crowd-pleasing films like Chronicles of Riddick, Saw, and White Chicks:
The 88th Academy Awards represent a different moment between the film industry and movie fans from the last time that Chris Rock hosted. Hashtags like #OscarsSoWhite signal a deeper frustration over lack of diversity in traditional avenues for filmmaking and artist recognition — a frustration that only deepened when talented actors like Idris Elba, Viola Davis and Alicia Vikander managed to receive ample recognition from their peers in other award shows.
The fact that people have finally recognized the lack of diversity in Hollywood could easily have been a reason for Rock to avoid this year's show. But it could also be why Chris Rock is exactly what this year's Oscars desperately needed.