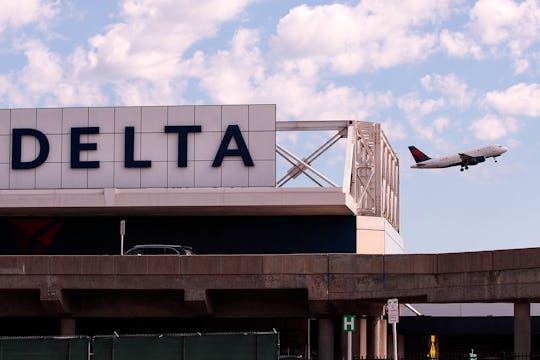 Drew Angerer/Getty Images News/Getty Images
Video Of Delta Flight Incident Is Troubling
A video tweeted Wednesday morning by YouTuber Adam Saleh has gone viral on Twitter. In the video, Saleh alleges he was being kicked off a Delta flight after speaking Arabic to his mother on the phone before take off, and then to his friend, fellow YouTuber Slim Albaher, who was traveling from London to New York with him. In the video of the Delta flight incident, he claims he is being kicked off the plane for speaking Arabic.
Update: On Wednesday evening, Delta spokespersons issued a second statement to further clarify the details surrounding the incident: "Upon landing the crew was debriefed and multiple passenger statements collected. Based on the information collected to date, it appears the customers who were removed sought to disrupt the cabin with provocative behavior, including shouting. This type of conduct is not welcome on any Delta flight. While one, according to media reports, is a known prankster who was video recorded and encouraged by his traveling companion, what is paramount to Delta is the safety and comfort of our passengers and employees. It is clear these individuals sought to violate that priority."
In the video he tweeted, which has been retweeted more than 200,000 times, Saleh talks directly to the camera, as well as fellow passengers on the flight, insisting that he and Albaher were being kicked off the flight "for speaking a different language."
Delta released the following statement regarding the incident:
We take all allegations of discrimination seriously and we are gathering all of the facts before jumping to any conclusion. Our culture requires treating everyone with respect. Furthermore, Delta people are trained to and frequently handle conflicts between passengers.
Maintaining a safe, comfortable and orderly onboard environment is paramount for every flight and requires the cooperation of all of our customers in conjunction with adherence to directions from our crew members. This is a Delta policy and is required by U.S. regulations as well as others governing aviation worldwide.
Two customers were removed from Delta flight 1 departing London-Heathrow today after a disturbance in the cabin resulted in more than 20 customers expressing their discomfort.
We have spoken with the customers who were removed; they were rebooked on another flight. Plans are in place to immediately speak with our crew and other passengers when the flight lands this afternoon. We will provide an update once we have more information.
A request for additional comment from Delta was not returned, and a request to Saleh was also not returned.
Saleh, a 22-year-old vlogger with more than 1 million subscribers on YouTube, is most well-known for his prank videos, but also has several videos on his page that involve social experiments showing the reality of living as a Muslim in America. One of his most popular videos involves Saleh and a friend staging a scene in a public park where he yanks off her Hijab. Saleh said at the beginning of the video that the experiment was inspired by his mother, who had her Hijab pulled off in public and no one stood up to help her.
Saleh and Albaher have significant social media presences, so the videos — both on Twitter and Periscope — spread quickly. Many on Twitter have pointed out that since Saleh's video begins after the event had allegedly taken place, there's a lack of context about what happened aboard the flight that led to the pair being asked to deplane. Saleh and Albaher have both since been put on another flight to return to New York City from London, according to Delta and Saleh's Twitter.
Saleh had also tweeted on Sunday that airport workers recognized him from his videos, and he joked that he "might get held up or in trouble" to his followers.
This isn't the first time this year that Delta has made headlines regarding alleged discrimination: back in October the airline responded to allegations made in a Facebook post by Dr. Tamika Cross. Cross wrote in a post to her Facebook that when a fellow passenger fell ill in-flight and the crew asked for a doctor, the flight crew didn't believe that she was a real doctor, and ultimately chose to accept the help of a male, white physician who was also on board the flight.