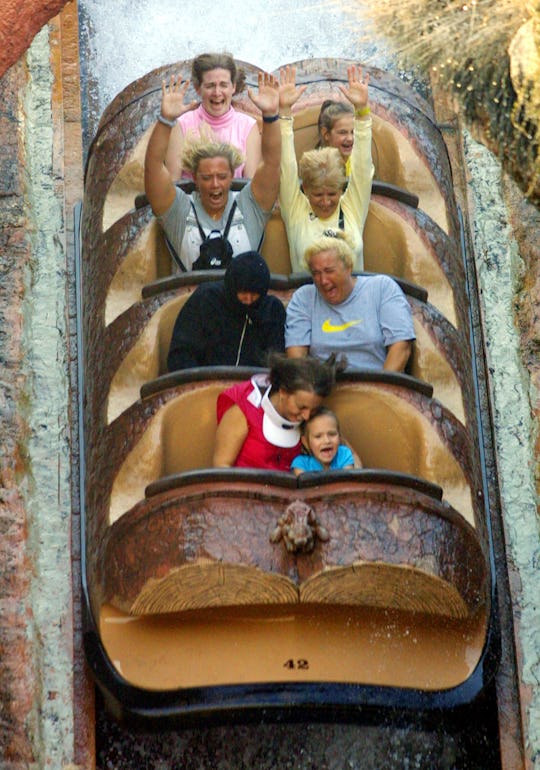 Joe Raedle/Getty Images News/Getty Images
Video Of Disney Employee Fighting Alligator At Splash Mountain Resurfaces After Attack
After 2 year old Lane Graves died from an alligator attack last weekend at Disney World, many people have been wondering if Disney had any liability or dealt with gators in the past. This new video of a Disney employee fighting off an alligator at the Splash Mountain shows that gators call the park home. Walt Disney did not immediately respond to Romper's request for comment. Graves was attacked in the lagoon at the Grand Floridian last week and another victim from 1986 was attacked at Fort Wilderness, a campground outside of the park. This little gator is right by the Splash Mountain ride in an adjacent body of water. The park employee is using a pool skimmer rod to scare him away, seemingly to prevent him from crawling over the small area of dry land and into the ride's body of water.
Paul Santamaria, the victim of the 1986 attack, said in an interview this week that Disney shouldn't be totally to blame, but that the prevalence of alligators needs to be played up just a little more. "It's an associated danger with that area. People from Florida know it's there, but people from another place don't know," he said.
The video was uploaded in 2009 by a user who added the Jaws theme music to accompany the scuffle between the employee and the alligator, which might be a little much. This alligator is small and not as threatening, but it's still a little unsettling to watch. Really, though, it simply shows that alligators are everywhere in Florida, and that includes the many places in Disney, in the park and its affiliated surroundings, where there's water.
This week, Disney employees put up signs that read "Danger. Alligators and snakes in area. Stay away from the water. Do not feed the wildlife." They also began digging holes to put up a fence around the lagoon where Graves was taken last weekend. The vice-president of Walt Disney World, Jacquee Wahler, said in a statement this week that they are taking further precautions for their guests and the gators.
We continue to evaluate processes and procedures for our entire property, and, as part of this, we are reinforcing training with our [staff] for reporting sightings and interactions with wildlife and are expanding our communication to guests on this topic.
When it comes to protecting guests from alligators, communication is probably the best way to go (along with fences). Florida lagoons and Disney World are the alligators home – we're all just visiting.