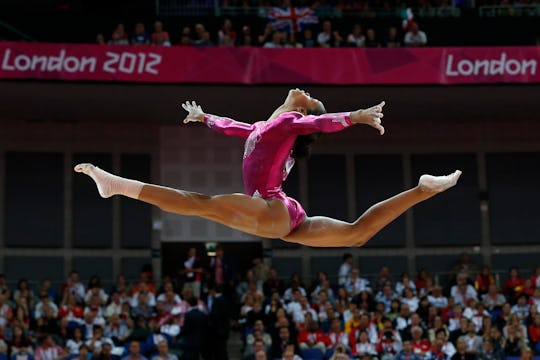 THOMAS COEX/AFP/Getty Images
Video Of Gabby Douglas Winning The London Olympic All Around Is A Serious Inspiration
It is finally that special time that only happens once every four years — yes, it is time for the Olympics but I'm not talking about that. I'm talking about the time every four years to become obsessed with gymnastics again. One minute you can't remember how to do a cartwheel and the next minute you're wishing you could be a member of the Fierce Five. Even though there is a new group of United States gymnasts worth getting to know, watching this video of Gabby Douglas winning the London Olympic all-around will serve as a great reminder of what we've been missing.
Douglas, along with London Olympic teammate Aly Raisman, will be the only two members of the Fierce Five (the 2012 U.S. Women's Gymnastic team) to grace the floor at the Rio Olympics coming up in the next few weeks. That means you'll be seeing a lot more of Douglas — who blew the minds of those who tuned in to the 2012 Olympics and gymnastics judges.
Douglas, who earned the nickname "Flying Squirrel" due to her impressive heights reached on the uneven bars — was only 16-years-old at the last Olympics where she became the first black female to win the gold medal in the all around event.
It is incredible to watch the videos from 4 years ago of Douglas winning the Olympic gold. You can practically feel the confidence coming out from her during her gymnastics routines and sense the pride and accomplishment coming out of her once she receives the gold medal.
It is amazing to watch the videos and see what one human body is capable of doing — the balance, skill, concentration and practically lifetime of training it takes to be an Olympic contender let alone an Olympic gold medalists. Not only that but in order to win the all-around competition in gymnastics, gymnasts have to be good at everything. They are judged not only on the difficulty of the program but how well the program is executed. There is no room for error or major mishaps. Gymnasts have to be on point.
Which is why watching videos of Gabby Douglas winning the London Olympic all-around is not only a major throwback but also a huge inspiration. At only 16-years-old Douglas accomplished more in 16 years than I will in a lifetime. It serves as a way to show young girls that if they work hard, they too can accomplish great things. But not only that, videos of Douglas from the event show that a teen can be incredibly strong and powerful — serving as an inspiration for all women, but young and old alike.
So brush up on your cartwheels and start eating your Wheaties because the 2016 Olympics are about to begin and inspire the heck out of all of us.