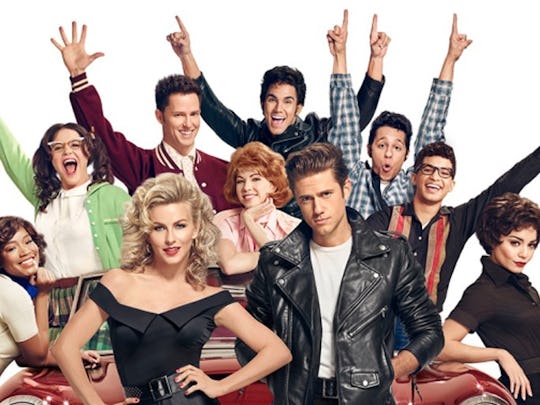 Fox
Video Of Jessie J Singing "Grease Is The Word" Is The Only Reason You Need To Watch 'Grease: Live!'
As if you weren't already excited for Grease: Live! this weekend, Fox just released a video of Jesse J singing "Grease," the title track for the special, during a Jan. 11 recording session, and it's everything. The clip features stars like Aaron Tveit, who plays Danny, Vanessa Hudgens as Rizzo, Julianne Hough as Sandy, and the rest of the ensemble in character, in rehearsal, and in the recording studio joining in. The show is going to be worth your while if only because so many great pop stars are cast in the show. If Carly Rae Jepson as Frenchy and Boyz II Men as Teen Angel doesn't do it for you, what else can?
Even if Grease wasn't your thing growing up, this remake is exactly what it purports to be: a remake. Most of the musical numbers have been made a little more contemporary, according to E!. There's even an updated version of the handjive. Thomas Kail, who's directing the show, told the New York Times that it won't matter if you're a fan of the stage version or the film version. "We have affection for the movie and the stage play just as much as everybody else," he said. "But it's not about trying to redo those. It's trying to capture the spirit."
And if anything can capture all the drama of high school romance, friendship, and growing up, it's pop stars like like Jessie J just bringing it. Fox is even going one step further than other networks with their live musical special by adding a live audience. NBC didn't have a live audience for Peter Pan in 2014 or The Wiz this past December. And a live audience is sort of the best part of musicals. It just adds that little something that invigorates the cast onstage and the audience at home (come on theater geeks, you know what we're talking about). Grease: Live! will have the best of both worlds. They'll broadcast the live show from a soundstage for the interior scenes and when it calls for it, also outside. It will be the type of show that makes you appreciate the crew behind the scenes wiring and lighting the whole thing.
It's going to be an event. It's always nice to have old favorites, whether its the stage version or the 1978 film. But if Jessie J's version of the title track is any sign of what to expect, Sunday's show will be everything you could want from a revival, and the video no doubt made fans even more excited about it. All together now: "But oohhhhhhh those suuuUUuuumer niiiiiiIIIIIIIIIiiiiiiIiights."