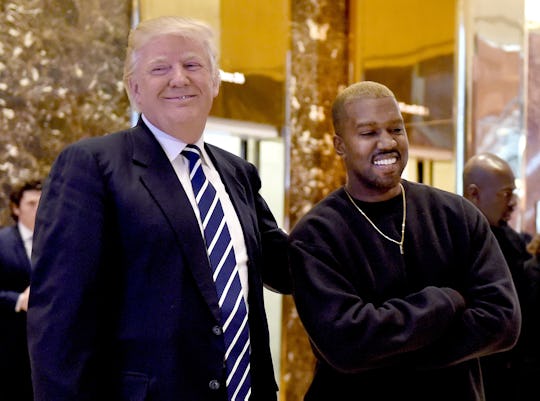 TIMOTHY A. CLARY/AFP/Getty Images
Video Of Kanye West & Donald Trump Is Surreal To Watch
It's becoming readily apparent that President-elect Donald Trump is looking to keep his whole reality show mojo going all the way into the White House. The scene in the lobby of Trump Tower has become a full-fledged circus, complete with an elevator cam and a steady stream of bold names riding up to the top of the golden tower to kiss the ring of the man who will be the 45th president of the United States. Just check out this video of Kanye West and Donald Trump in Trump Tower on Tuesday for further proof of the madness. It's so surreal you have to keep reminding yourself this is the leader of the free world, meeting with an eccentric rapper instead of doing the business of the American people, or preparing to take on one of the biggest jobs in the country, or just generally receiving standard-fare intelligence briefings.
Strange times. West strolled into Trump Tower on Tuesday morning with his hair dyed a color Vanity Fair has since dubbed "Trump gold." It was all caught on C-SPAN's running live camera, which is staked out at the Trump Tower elevators.
Can we talk about the awkward handshake? It's painful to watch:
TMZ reported West was the one who requested the meeting; Afterward, Trump told reporters West was just there to talk about "life."
Here's video of the moment Kanye West showed up to talk to Trump, and also the moment America collectively lost its mind:
Here are the two emerging from the meeting to talk to reporters:
"Just friends, just friends... good man," Trump said gesturing toward West after the short meeting was over.
The very public spectacle with West comes at a time when the president-elect is under fire from all sides for, among other things, his rejection of the intelligence community's opinion that the Russians used hacking to influence the presidential election; his cancelling a much-anticipated press conference that was supposed to address reports of Trump's deep conflicts of interest between his business and the presidency; and the shocking admission that he doesn't get daily presidential intelligence briefings because he's a "smart person."
Trump is also drawing criticism for nominating ExxonMobil CEO Rex Tillerson as his chosen secretary of state, a man with no experience in government or diplomacy who happens to be extraordinarily close with Russian President Vladimir Putin, according to NBC News.
You know, with all of that controversy surrounding the President-elect right now, maybe a little Yeezus reality show razzle dazzle was just what team Trump needed to distract the media, and the public.