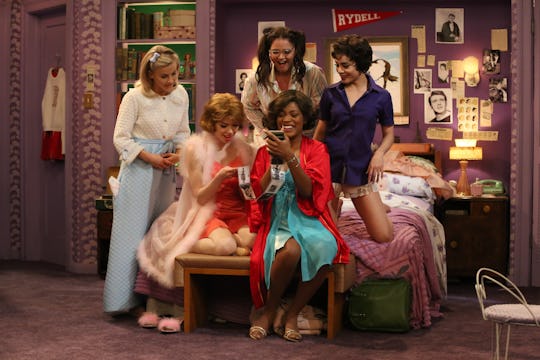 Kevin Estrada/FOX
Video Of Keke Palmer's "Freddy My Love" 'Grease: Live!' Performance Proves She's Got Big Things Ahead Of Her
Fans of the Grease movie may have been thrown for a loop when Keke Palmer broke out singing "Freddy My Love" in Grease: Live! — but those familiar with the Broadway show probably weren't too surprised. Producers made the decision to add the solo to showcase Palmer's voice. And, considering Palmer already starred in the Broadway production of Cinderella, it wasn't too much of a gamble. Still, it was a great way for viewers at home to see just how spectacular Palmer really is.
Ahead of the Fox production of Grease: Live!, the actress expressed concern about whether she would be able to manage the complicated "Freddy My Love" number. As she told People, "The way we are introducing it is really fun. We weren't sure we were going to be able to pull it off logistically but it looks like it's going to all work out and be amazing." Of course, Palmer's perfect performance when the show aired on Sunday night made all of those concerns seem laughable.
To say the performance shows Palmer has big things ahead of her is a bit of a disservice because she already has an impressive resume. Still, if that transition from nightgown to evening dress doesn't scream, "This girl's a star," then I don't know what does!
And Palmer isn't just a talented performer — she's also super eloquent! Earlier in the day, Palmer said on Instagram just how much playing Marty meant to her:
There has never been an African American in Grease and while I hate that that's something to be pointed out, it is! My little brother and sister think differently growing up seeing me do something like this! They will not know it to be any other way in their 14yrs of living! That is REAL! ... So whether you are an African American, or a female or whatever, if you can not relate to ANYONE in our show at face value. Relate to the fact that this is the first time anything like this has been done and it's only being done because we all believed! That is the KEY.
As Grease: Live! showed, Palmer is around to stay — and that's a great thing for all of us!