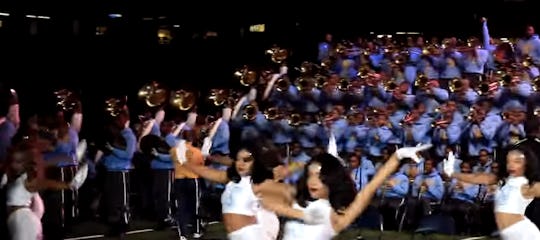 Video Of Marching Band Performing Adele's "Hello" Will Make You Realize There's No Stopping This Song
America can't stop, won't stop. There have been parodies of Adele's "Hello," memes of Adele's "Hello," and, now, there's a marching band cover of Adele's "Hello." The Southern University marching band, and the school's dancers, put together a routine to the hit song, showcasing that there's no form that the song can't take on. It's still perfect, whether it's performed with Adele's voice, or a dozen tubas.
And, as it seems, people just can't get enough of the song. The song sat at No. 1 on the Billboard chart for the fifth week in a row, and the album is faring even better — the first week of 25's release, fans of Adele picked up a whopping 3.48 million copies of the album. Even more impressive when you consider that Justin Bieber — who is at last riding positive press after the releases of hit tracks like "Sorry" and "What Do You Mean?" — sat far, far behind Adele the first week of his album Purpose, selling just 649,000 copies. (Which is still nothing to sniff at.)
But, still, "Hello" remains supreme — you'll hardly say goodbye to the hit song anytime soon, and this video just proves that fact. Enjoy!