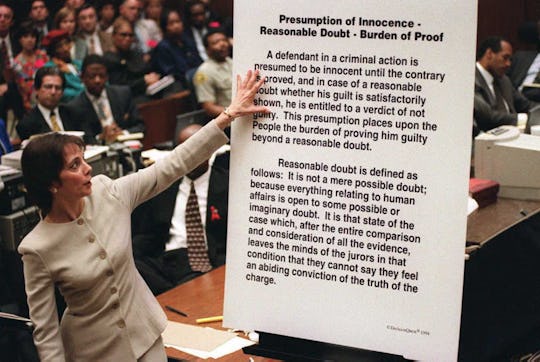 POOL/AFP/Getty Images
Video Of Marcia Clark's Closing Argument At The O.J. Simpson Trial Shows Her Last Effort To Convince The Jury
The entire O.J. Simpson trial was stressful – but the most intense part of it all might have been the closing arguments. This was the moment for the prosecution to convince to the jury that they proved O.J. Simpson killed Nicole Brown Simpson and Ron Goldman. As we know, Simpson was acquitted for the two murders, meaning that the jury did not believe the prosecution did prove guilt. Both Christopher Darden and Marcia Clark spoke on behalf of the prosecution; both made compelling arguments. And, video of Marcia Clark's closing argument from the O.J. Simpson trial prove just how much of a last chance this moment in the trial was, especially coming after the damning argument the defense made with the Fuhrman tapes.
If you're really looking to dive deep into the trial, you can fall into the slippery slope and dangerous rabbit hole of YouTube videos of the many hours the closing argument took. The People v. O.J. Simpson does not detail every hour of those arguments, unfortunately — or maybe fortunately since, that would mean the series would have, like, seven more episodes. The arguments actually lasted longer than the jury deliberation lasted, which is probably incredibly infuriating for those involved — especially Clark and Darden, who didn't get a verdict in their favor.
As you can see in the video, Clark, first of all, addresses the fact that the jurors just spent almost a year of their life doing their civil service. It is certainly a great way to play to her audience, as I'm sure at that point they were all ready to end this exhausting chapter of their life.
Then, Clark attempts to distance herself from witness Mark Fuhrman. Earlier in the trial, it was learned that Clark's witness had used racial slurs in an audio tape in the past. It hurt the prosecution immensely, and gave the defense a solid narrative to tell the story.
"Let me come back to Mark Fuhrman," Clark says. "Did he lie when he testified about not using racial epithets in the last 10 years? Yes. Is he a racist? Yes. Is he the worst LAPD has to offer? Yes. Do we wish this person was never hired by LAPD? Yes. Should the LAPD have ever hired him? No. Should such a person ever been a police officer? No. In fact, do we wish that there was no such person on the planet? Yes."
It's a powerful speech, unfortunately, it wasn't enough. Despite her final plea with the jury, Clark lost the case after a deliberation that lasted four hours. If you so wish to spend more time watching the closing arguments, you can watch the first part (six hours) below.