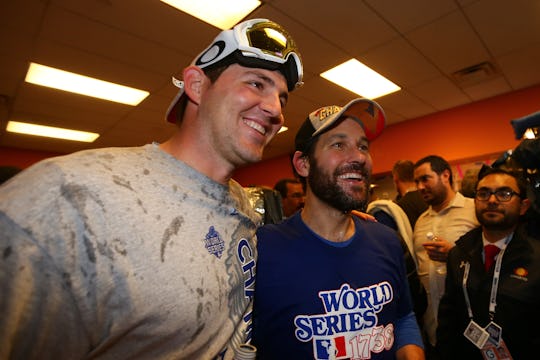 Video Of Paul Rudd Getting Beer Shower From Kansas City Royals Will Even Make Mets Fans Smile
Really, there's not a day that goes by where I don't feel Paul Rudd deserves a beer shower. The man is a national treasure fitting of a Nicolas Cage movie. He's charming! Ageless! Hilarious! And, most of all, he was and will forever be Josh from Clueless, and we're all still totally buggin' thinking about him. So it was a thrill to watch video of Paul Rudd getting a beer shower from the Kansas City Royals, if only because whenever Paul Rudd is happy, I am happy. 
And, boy, was he happy — Rudd has been a fan of the Kansas City Royals since childhood, and even joked in the past that he would throw a party at his mom's house if the Royals ever won the World Series. ("She's out of town, I've got a keg. It's going to be sweet," he said in 2014.) But, last night, Kansas City Royals third baseman Mike Moustakas did him one better, spraying Rudd with a beer after insisting he was "way too dry." 
Rudd clearly enjoyed the moment as much as we all are today. "I haven't thought about anything," Rudd told reporters. "I can't even believe I'm standing here right now. I don't know how I snuck in."
See video of Rudd's beer shower below: 
As I said, national treasure. 
Image: Getty