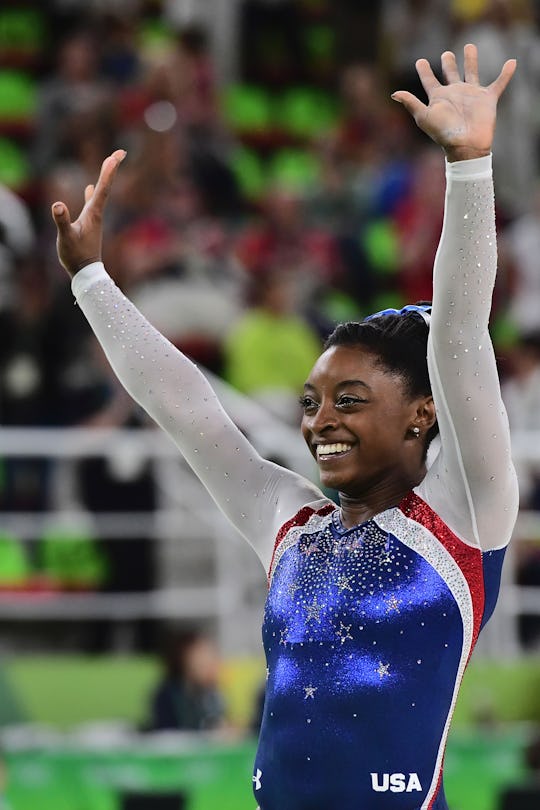 EMMANUEL DUNAND/AFP/Getty Images
Video Of Simone Biles Seeing Her Final All-Around Score Will Make You Cry All The Tears
Simone Biles won the gold medal in the individual all-around gymnastics final on Thursday. Biles was in second place half way through the event, but she made a fantastic, if expected recovery in time to take home the gold. It's been a spectacular competition for Biles and her teammates, but watching Biles receive her gold medal was something truly special — and the video of Simone Biles seeing her final all around scores, with tears in her eyes, will give you goosebumps.
Biles was already widely considered to be the world's best female gymnast before arriving in Rio this summer. She put any doubt that she could go all the way to rest and cemented her legacy as one of the greatest gymnasts of all time in one fell swoop by winning the individual all-around gold medal on Thursday. It was a truly historic sports moment. Biles won the individual all around gold medal by a full 2.1 points, which is a bigger margin of victory from the years 1980 to 2012 combined. Biles watched, tears in her eyes, as the judges revealed her monumental results. The emotional moment is even sweeter when you take into account how hard Biles has worked to get there.
Biles was too young to compete in the 2012 London Olympics, but that hasn't stopped her from completely dominating the last few years. She made her senior debut in 2013 and has been setting the world of gymnastics on fire ever since. Biles is no stranger to coming in first. She's the first female gymnast in 42 years to win four consecutive all-around titles at the U.S. national championships. She was the first woman to be the all-around world champion for three straight years, as well as having the most world championship medals ever won by an American woman. Fourteen medals, to be exact. Now she can add Olympic gold to her expansive collection.
Biles was joined on the medal podium by her teammate Aly Raisman. Raisman came in second, making this the first time since 2008 that American gymnasts have claimed both the silver and gold medals. This was Raisman's first Olympic all-around medal, as well. She lost a tough tie breaker for the bronze in London four years ago. It seemed as though Biles gold-medal-moment couldn't get any more endearing, but then the two teammates tearfully embraced in celebration.
Biles is a force to be reckoned with. Her victory in Rio comes as no surprise, but it was still a wonder to behold. Congratulations, Simone, you're officially the greatest of all time.