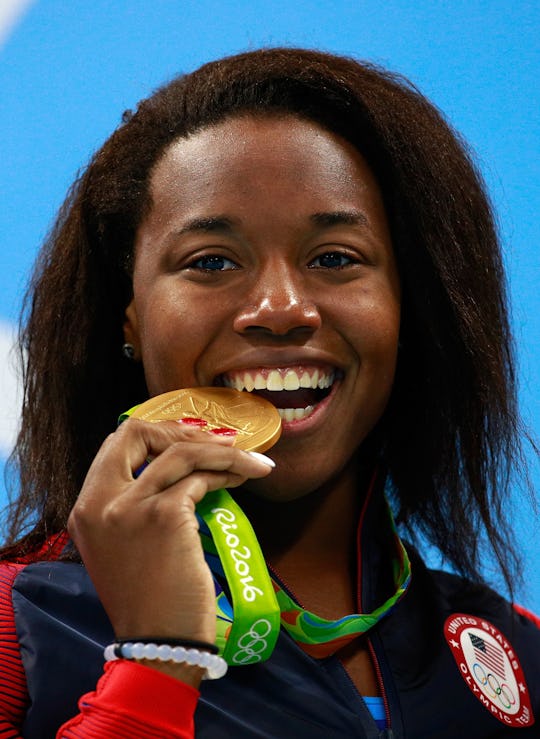 Adam Pretty/Getty Images Sport/Getty Images
Video Of Simone Manuel's Historic Olympics Win Is Absolute Black Girl Magic
Simone Manuel is incredible. She's a fierce, skilled athlete, who should make every single American proud. Manuel won a gold medal for the United States, breaking an Olympic record, for the women's 100-meter freestyle in swimming. And she made history becoming the first black woman to win an individual event in Olympic swimming. The video of Simone Manuel's historic Olympics win is absolute black girl magic. It's a heartwarming reminder for black women like myself that we can, and we will, continue to thrive and break boundaries despite facing marginalization.
Manuel, 20, tied with 16-year-old Penny Oleksiak of Canada, with a record breaking, winning time of 52.7 seconds. And Manuel certainly understands the significance of her win – both as a black woman and Olympic swimmer. When black athletes or musicians break boundaries it is important to acknowledge their blackness. Systemic racist practices still very much plague society, and runs deep in all industries. Swimming, in particular, holds history of racial discrimination, in which black people were denied access to swimming pools, among other systemic disparities affecting black communities. And since racial equality still does not exist on all fronts, it's important to honor and show pride in black identities when black people make inspiring breakthroughs.
But recognizing a distinction in that acknowledgement is equally important. Black athletes like Manuel shouldn't be viewed any less than any other American athlete at the Olympics. Her feat was breaking systemic boundaries – it wasn't being an incredible swimmer for a black woman.
Manuel understands that distinction, and she made it clear to the world. In an interview captured by TIME, the gold-winning Olympic swimmer broke it down perfectly:
I tried to take the weight of the black community off my shoulders; it's something I carry with me being in this position. This medal is not just for me but for the African-Americans who came before me…and for the people who come behind me. I would like one day for there to be more of us, so that it's not Simone the black swimmer because the title of black swimmer makes it seem like I'm not supposed to be able to win a gold medal, or not supposed to break records. That's not true. I work just as hard as everybody else and I want to win just like everybody else.
Manuel's remarks reminded me of Misty Copeland's. Copeland became the first black woman principal dancer at the American Ballet Theatre. She's clearly a brilliant dancer, and no one should dare take that away from her. But Copeland understands exactly why it's empowering to embrace being labeled a "black ballerina." It's an industry that has been plagued with racial discrimination.
"[I embrace the title] because it's so rare and because it's an issue and because it's been my path and my struggle," Copeland said in an interview with the Huffington Post. "I'm not going to deny or pretend that that's not who I am."
It's a proud moment all around. Go ahead, Simone!