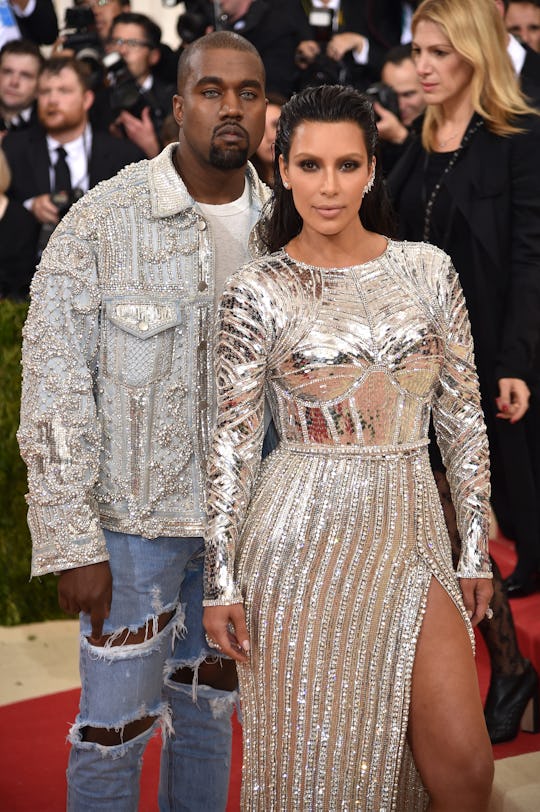 Dimitrios Kambouris/Getty Images Entertainment/Getty Images
Video Of The Kanye Riots In New York City Show Just How Insane It Really Was
Talk about a wild night! After his scheduled performance at Governor's Ball in New York City was canceled Sunday due to the threat of rain, Kanye West decided he wanted to perform anyway, so he let his fans know via Twitter that he'd be playing a secret show that night at Webster Hall. And while it's no surprise that tickets sold out almost immediately, what is surprising was that the show didn't even end up happening, thanks to the huge, rioting crowd of people who showed up to the show without tickets, unofficially shutting down the street. Even though that sounds pretty crazy, video of the Kanye riots in New York City show just how insane it really was.
According to The Daily Mail, the crowd numbered in the thousands, and were chanting "Kanye" and "Pablo" as they waited in the street, hoping to get a glimpse of the star. Rumors swirled that West might even play his show outside instead, which only fueled the crowd's excitement, causing some fans to pass out and get trampled on. As the night progressed (and as the crowd kept growing), some fans were even pepper sprayed by police, and by the end of the night, one fan had also been arrested. Though there were a few crazy moments, many are calling it a "near riot" rather than a riot, because there wasn't any real violence.
Despite the madness, West himself tried hard to make the show happen, according to Us Weekly, with Kim Kardashian posting a video to her Snapchat account showing her husband on the phone trying to get NYC mayor Bill de Blasio to shut down the block and put up screens so that everyone who didn't get tickets to show could stay and enjoy themselves. For real.
Unfortunately for West, he was left disappointed when Webster Hall canceled the show citing safety concerns (no kidding!), tweeting the news and telling everyone to get home safely. After trying unsuccessfully to find another venue, West finally gave in and called it a night — although not before standing out the sunroof of his car and being driven through the excited crowd:
Seriously, this crowd was no joke.
But even though the Kanye West show didn't actually happen, fans are still considering it a success, simply based on the size of the crowd. Producer Mike Dean, who worked with West on The Life Of Pablo, summed it up best early this morning when he wrote about the crazy "Pablo mob":
Say what you will about West, but there's no doubt his fans are seriously loyal. A crowd of thousands of fans showing up within half an hour late on a Sunday night? Impressive.