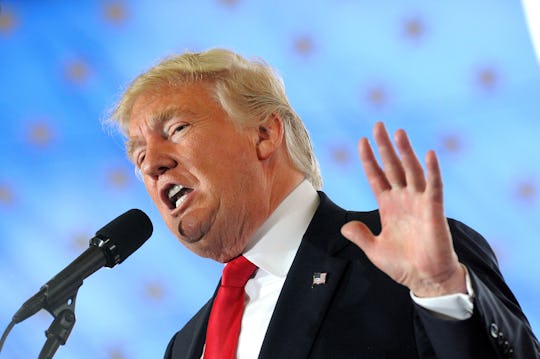 Gerardo Mora/Getty Images News/Getty Images
Video Of Trump On Howard Stern Shows The Candidate Admitting To Being A 'Sexual Predator'
Just days after multiple women came forward with claims that Donald Trump allegedly touched them inappropriately, an unearthed video of the Republican candidate speaking with Howard Stern revealed Trump admitting to allegedly being a "sexual predator." In a separate interview with the shock jock radio host, in which Trump and Stern joke about women who exploit the fact that their husbands did not ask for prenuptial agreements, Trump also jokingly referred to women he had slept with as his "victims." The Trump campaign did not immediately return Romper's request for comment on the videos.
"Donald seriously, you know all about sexual predators and things like that, I mean…," Stern says to Trump in the video from 2006.
Stern's co-host Robin Quivers then chimes in and says, "You are one!"
Trump then smiles and nods in agreement, appearing to say "It's true" while everyone in the room laughs. Trump's daughter Ivanka, who was 24 years old at the time, is also seen seated next to him.
The exchange happened just after Stern and Ivanka discussed her relationship with a former boyfriend, James 'Bingo' Gubelmann. Stern asks her if she gave "into him sexually" and whether or not she still had her virginity.
Right before the exchange takes place, the radio host directs the conversation back to Trump and asks him if he ever talks to his daughter about sex.
The entire video from this 2006 Howard Stern Show interview can be seen below and the exchange happens just after the 21 minute mark:
A keen eye on Twitter, Avi Bueno, spotted another cringeworthy remark made by the presidential candidate in a separate interview with Stern. In this video from 2004, Trump refers to women he had slept with as his "victims."
"You know The National Enquirer, Howard, did a story on me not so long ago that, in the history of the world, nobody has gotten more beautiful women than I have, which is a great compliment," Trump says to Stern.
Trump continues, "In fact, many years ago I was on your show and you were putting all of them up on posters, remember?"
"Yeah, I had a chart," Stern replies. "... I'm sure I missed thousands."
"You missed a lot of them," Trump says. "Actually some of the ones on the chart were not victims.... You missed quite a few, but that's okay."
The unearthed footage follows stories published in The New York Times, The Palm Beach Post, and People on Wednesday evening with accounts from numerous women who said that Trump allegedly kissed, grabbed, or groped them.
The Republican candidate has vehemently denied these allegations and has since attacked the media and Hillary Clinton's campaign for publishing stories that he sexually assaulted women.
At a campaign event in West Palm Beach, Florida, on Thursday, Trump said:
These vicious claims about me of inappropriate conduct with women are totally and absolutely false. And the Clintons know it. And they know it very well. These claims are all fabricated. They're pure fiction. And they're outright lies. These events never, ever happened. And the people that said them fully understand.
While these latest revelations of Trump engaging in crude and demeaning conversations about women took place a decade ago, the footage adds even more fuel to claims and opinions that the candidate lacks any respect for women.
Watching this obscene footage reminds voters yet again just how bizarre this election is and just how much is at stake for women in the United States.