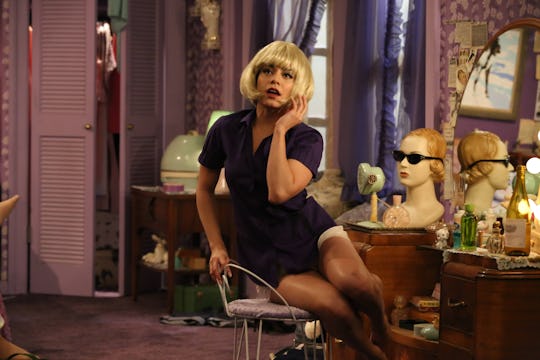 Grease: Live/Fox
Video Of Vanessa Hudgens Performing 'Look At Me I'm Sandra Dee' Is Inspiring
Grease: Live! aired on Fox Sunday night, and it was a fun, updated version of the '50s-era classic. Even though Vanessa Hudgens' dad died Saturday, she still went on to perform in Grease: Live!, and said that her performance would be a tribute to her late father. The video of Vanessa Hudgens performing "Look At Me I'm Sandra Dee" was inspiring and shows that she's truly dedicated to her craft as a performer.
The High School Musical star tweeted Sunday morning that her dad, Greg Hudgens, had died Saturday night after battling stage 4 cancer, according to E! Online. "I am so sad to say that last night my daddy, Greg passed away from stage 4 cancer," she wrote. "Thank you to everyone who kept him in your prayers."
Hudgens played Rizzo, one of the Pink Ladies, in Grease: Live!, and she performed the classic song "Look At Me I'm Sandra Dee." Rizzo sings the song during Frenchy's slumber party, and it's supposed to be making fun of Sandy, whom Rizzo says is too innocent and "goody goody" for Danny. Hudgens managed to play the tough, sort-of-mean girl despite the fact that she was probably dealing with some very dark, difficult emotions, and the internet was totally impressed. It's easy to see why:
Many of Hudgens' fans (and those who weren't previously Hudgens fans) tweeted that they admired her strength throughout the show. The fact that Hudgens could perform live and keep it together shows just how seriously she takes her craft. But — even more beautiful — it shows that she was definitely driven to make her performance an amazing one in dedication to her dad.
Hudgens' performance was amazing and inspirational to so many people on Sunday night.