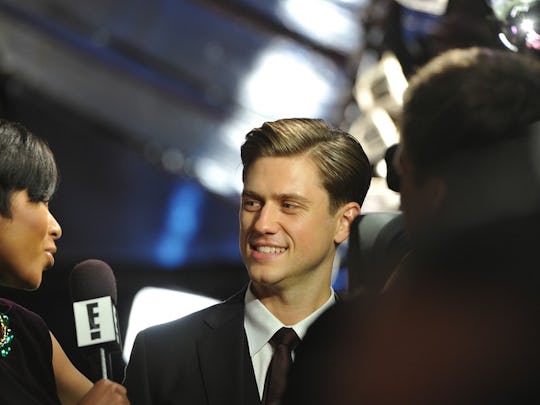 Larry Nusacca/Getty Images Entertainment/Getty Images
Videos Of Aaron Tveit On Broadway Will Get You Pumped To Watch 'Grease: Live'
There are only a couple more weeks until the premier of Grease: Live on Fox, and it's times for fans to prepare themselves. Some cast members are probably more easily recognized than others; Julianne Hough of Dancing With the Stars fame is playing Sandy, High School Musical star Vanessa Hudgens will play Rizzo, and Canadian singer Carly Rae Jepsen will play Frenchy. But fans who aren't super into musicals might not be familiar with Broadway star Aaron Tveit (not a typo, I promise), the man set to play Danny. The best way to remedy that? Check out videos of Tveit singing in various Broadway shows (honestly, it's addicting).
Tveit has done a fair amount TV before, appearing as Trip van der Bilt in a handful of Gossip Girl episodes, as well as starring in the 2013-2015 USA Network series Graceland, but he's much better known in the theater world. Tveit left college in his freshman year to tour with Rent in the role of Roger, a musician and an ex-junkie struggling to cope with the death of his girlfriend (Variety called Tveit's passionate performance "arresting").
After Rent, Tveit played Link Larkin in the national tour of Hairspray, and then Gabe in Next to Normal. He also played Frank Abegnale, Jr. (Leonardo Di Caprio's character) in the musical adaptation of Catch Me If You Can, and appeared in the film adaptation of Les Miserables, according to his own sit.
Ready to get to know Aaron Tveit better? Sit back, relax, and watch some of his finest Broadway moments (and be prepared to be blown away).