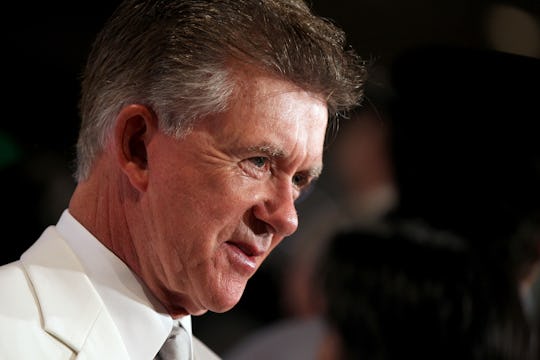 Isaac Brekken/Getty Images Entertainment/Getty Images
Videos Of Alan Thicke In 'Growing Pains' Are A Touching Walk Down Memory Lane
With the devastating news that Alan Thicke died from an apparent heart attack at the age of 69 after a game of tennis, fans have turned to the iconic on-screen memories of the star to get them through the incredibly unfortunate news. And videos of Alan Thicke in Growing Pains are a heart-wrenching reminder of his raw talent and his placement in our hearts that will, thankfully, live on forever as a testament to his pure skill.
On Growing Pains, Thicke played the iconic Dr. Jason Seaver, dad to four kids: Mike, Ben, Carol, and Crissie. He was the kind of fun-loving, comedic, and inspiring TV dad that defined the late 80s and early 90s. In real life, Thicke talked to the Huffington Post about his approach to parenting. When asked how his three sons (Robin, Brennan, and Carter) would define his parenting style, he said:
My kids would say too laid-back, permissive and trusting. I was not strict at all and occasionally that bites you in the butt. But generally speaking, I'm pretty happy with my kids.
When asked about how close and involved he is with his sons', Thicke told the site:
My relationship with my sons is very close. I'm in touch with or engaged with at least one of them every single day. Worst case scenario it's every third day for any one of those kids.
Unsurprisingly, Thicke and his on-screen character had much in common with one another. And though the future of Thicke's legacy now belongs to his past, his incredible Growing Pains moments will carry us all through this difficult, dark time.
The Growing Pains Opening
Full disclosure, I have this song on my playlist because I love it that much. I sing it in the shower. When I'm having a bad day. When I'm having a good day. When I need a reminder of what's important. I'll never hear the words "As long as we've got each other, we got the world spinning right in our hands" without tearing up.
Thicke's Growing Pains Gag Reel
It's so dad that it literally hurts to dad this much. But it's a beautiful memory I'll have all my life.
Missing Curfew
Growing up, I can't tell you how many times I dreaded missing curfew. But the heart of this scene — a heart-to-heart between father and son about growing up and learning what constitutes courage and bravery — was one I'll remember forever and ever.
*That* Series Finale
Long before cliffhangers, long before the will there, won't there be a spinoff, there was this. And damn, I miss it.
The Dinner Scene
No matter what was going on at the Seaver family dinner table, you could always tell there was a lot of love there. That feeling of love and closeness was a result of the Seavers' love for each other — and that was spearheaded, largely, by Thicke's warmth in the role.
His Favorite Growing Pains Memory
OK, technically not a scene from the show, but what's better than hearing Thicke talk about one of the roles that made him a household name? He was TV's favorite dad, and all the generations to come are lucky to have his memory.