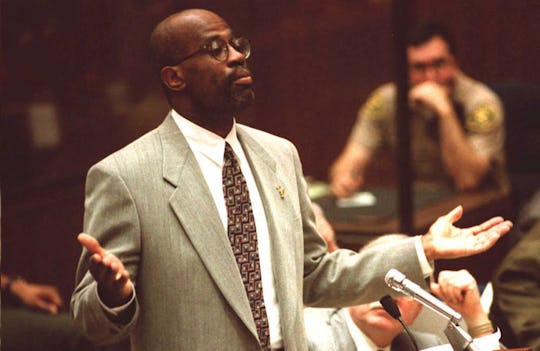 POOL/AFP/Getty Images
Videos Of Christopher Darden At The Real O.J. Simpson Trial Show He Was Emotionally Invested
There are plenty of people watching the O.J. Simpson trial for the first time via The People v. O.J. Simpson: American Crime Story. The FX show delves into the behind-the-scenes secrets of the proceedings, particularly the maneuverings of each legal team. On the show, actor Sterling K. Brown plays prosecutor Christopher Darden. Together with head prosecutor Marcia Clark, Darden mounted a case against Simpson that transfixed the nation. Videos of Christopher Darden at the real O.J. Simpson trial reveal an attorney who took his work seriously in the midst of a media circus.
American Crime Story dramatizes the events of the Simpson trial, packing months of arguments into a season of TV. Though raw footage from the original proceedings may not be as visually compelling, millions of people tuned in to watch the live trial. In a 2013 interview with Katie Couric, Darden said the trial changed his life:
It was insanity for more than a year. And for me, it was new, just like it was new to the rest of the country. And despite my law training and all the years I'd spent in the DA's office trying homicide cases, there was nothing that could prepare me for what happened in the O.J. Simpson case.
Darden argued eloquently on behalf of the prosecution. In one clip, he's shown delivering a powerful closing statement: "Now Ron, he was just at the wrong place at the wrong time. Nicole, she was in the wrong place for a long time."
Though much of the trial was serious, there were lighter moments. When questioning Christian Reichardt, chiropractor and friend of Simpson, Darden started off with, "You profess to be some doctor of love, now, Dr.Reichardt?" Defense attorney Johnny Cochran and Judge Lance Ito both objected to the sarcastic nature of the question, according to The Los Angeles Times.
Ultimately, Darden seemed to be deeply invested in the trial. In one of the most famous clips associated with the prosecution, he got emotional during a post-acquittal press conference. "I'm not angry," Darden said. "I'd also like to thank the lawyers on our prosecution team. I am honored to have..." before trailing off and stepping away from the microphone, his colleagues walking to embrace him.
In a 1997 interview with Oprah, Darden explained why he couldn't continue speaking:
You know what I was thinking? I was thinking that I was about to be just like Fuhrman and just like O.J. I was about to lie. I stood up there and I said, Oh, yknow, I'm not bitter. No. No. I'm not hurt by this. I stood up there trying to act as if this was, y'know, eh, y'know, we fought the good fight. Y'know, it was a good game. Somebody has to lose. That was a lie.
To see how Darden took on Simpson, you can catch American Crime Story Tuesdays at 10 p.m. on FX. After 20 years, the arguments are just as compelling.