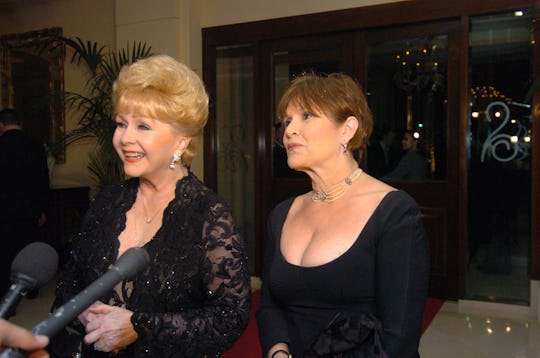 Handout/Getty Images Entertainment/Getty Images
Videos Of Debbie Reynolds Singing Are Beautiful
Singin' in the Rain star Debbie Reynolds and mother of actor, writer, and screenwriter Carrie Fisher, who just died on Wednesday, reportedly died on Thursday, according to TMZ. She was 84. She had been rushed to the hospital as the result of a stroke earlier in the afternoon. Now, just after receiving tragic news about her daughter, fans are mourning the beloved actor. Videos of Debbie Reynolds acting and singing will help fans remember her and her talent.
Reynolds' son Todd reportedly confirmed the news of Reynolds' death, according to TMZ. Todd reportedly told the website "She's with Carrie." Though the Fisher and Reynolds had a tumultuous relationship as Fisher was growing up due to Fisher's substance abuse, they mended their relationship later on in their lives and became incredibly close. In a recent interview with NPR, Fisher described her mother's strength beautifully:
She's an immensely powerful woman, and I just admire my mother very much. She also annoys me sometimes when she's mad at the nurses, but she's an extraordinary woman. Extraordinary. There's very few women from her generation who worked like that, who just kept a career going all her life, and raised children, and had horrible relationships, and lost all her money, and got it back again.
And, to remember that strength, fans are turning to old videos of Reynolds singing and acting.
Reynolds was nominated for an Oscar for her performance of the song "Tammy" in Tammy and the Bachelor, according to TMZ.
But Reynolds became famous for the below performance of "Singin' in the Rain," which was dubbed over with Betty Noyes in this scene. But the YouTuber re-dubbed the scene with Reynolds voice, according to the YouTube description.
And here's an outtake of Reynolds singing "You Are My Lucky Star" for Singin' in the Rain: (It doesn't sound like an outtake to me...)
And just in case you haven't gotten your good cry in for today, here's a video of Reynolds and Fisher singing together, because yes, you need to just get it out:
And in the below video, Reynolds sings and dances with Donald O'Connor to open a show for Joan Rivers in 1985:
And here's another rendition of "You Are My Lucky Star" from Singin' in the Rain. For the original movie, she was reportedly dubbed over by Betty Noyes, but the YouTuber says that this rendition is Reynolds' original vocal.
Throughout her career, even well after her Singin' in the Rain days, Reynolds voice and acting chops were impressive. She gave the trait to her daughter as well, and now the world has lost two powerful women who took no sh*t and allowed the world to see many of their struggles. It's the way they overcame those struggles and the impact that their work left on the world that fans will never forget.