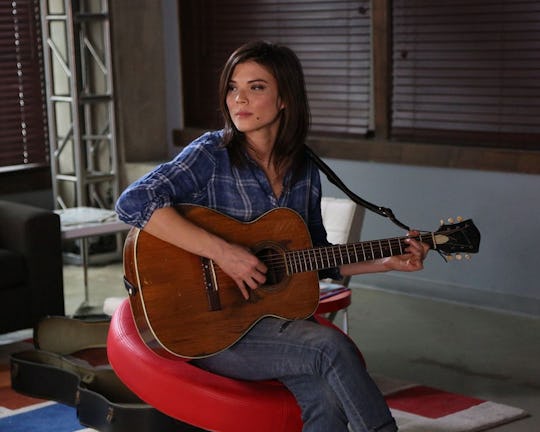 Mark Levine/ABC
Videos Of Jeananne Goossen From 'Nashville' Prove Vita Has What It Takes To Sing With The Best Of Them
Jeananne Goossen joined the cast of Nashville for a couple of episodes on Season 4 as Vita, a singer/songwriter who descends upon The Beverly and snags herself a meeting with Rayna James at her label Highway 65. Unfortunately, she's living out of her car, was in and out of the foster system as a kid, and has an arrest record, which Frankie, her would-be boss at The Beverly, considers a red flag. But Rayna and Deacon are impressed enough with her talent to give her the benefit of the doubt. It's no wonder either — videos of Jeananne Goosen singing prove that she has the musical chops to hold her own on a country music drama.
Goossen has a respectable TV resume, with a recent stint on The Walking Dead and a series regular role on NBC's The Night Shift. But she's also dipped her toes in the water as a singer, with killer SoundCloud covers of Bon Iver's "Skinny Love" and Kid Cudi's "Pursuit of Happiness." On Nashville, however, the Canadian actress's folky singer/songwriter vibe translates easily to warm, bluesy country vocals. In her first performance of the series, she tackles a song called "Down the Line" as part of her audition at The Beverly.
You can listen to the track in its entirety below and buy it off the Nashville soundtrack here.
And here she is, crooning like a star in a duet of the Ray Lamontagne and Rachael Yamagata song, "Duet":
And here Goossen is singing a beautiful Acapella version of the Björk's "Someone In Love":
Looking for some older stuff? Here's Goossen singing "Pursuit of Happiness" by herself, like a pro:
Vita is a great character and a fan-favorite so far: On her second episode, she played a track called "This Old Guitar" for Rayna at Highway 65, right before pouring out her checkered past and confessing that music saved her life.
Unfortunately, it seems that Vita's past catches up to her, and Frankie eventually runs her out of town with berating accusations. Vita is not slated to return to Nashville, but thankfully, Goossen got two awesome tracks on the Season 4 soundtrack, which is a huge honor in itself.
Can't get enough Vita? No problem: just snag your own downloads or catch Goossen singing elsewhere on YouTube and enjoy the magic.