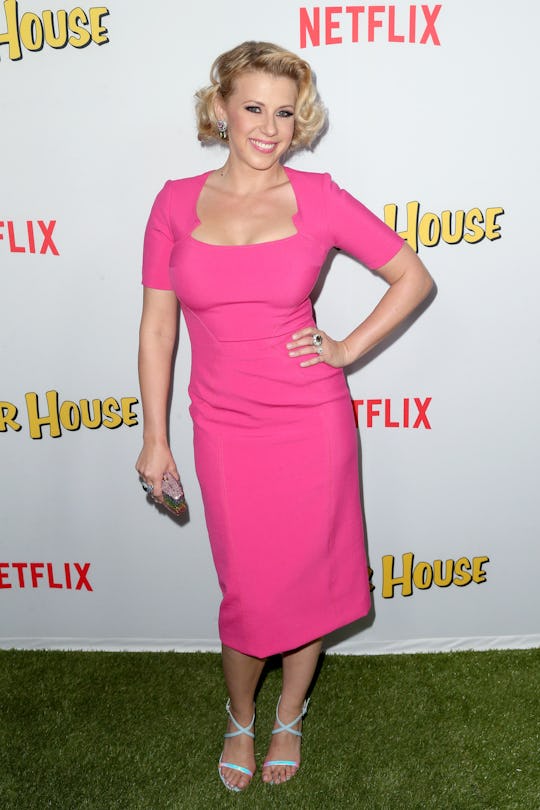 Frederick M. Brown/Getty Images Entertainment/Getty Images
Videos Of Jodie Sweetin Dancing Show She's Not The Awkward Wallflower At Parties
Jodie Sweetin has recently come back to the world of acting by reprising her role as Stephanie Tanner in Netflix's sitcom reboot Fuller House. She's going to be making another welcome cameo as a contestant on Dancing With The Stars. But does she have a chance at winning? Well, videos of Jodie Sweetin dancing show she's got moves.
You may remember her dancing skills from her Full House days. Sure, she was just a kid, and sure, she danced to Boyz II Men (who didn't?), but even then it was clear that she had talent. Judging from the dance scenes in Fuller House, that talent has stayed with her. If she brings her '90s moxie with her 2016 moves, she's got as good a chance as any at taking home the glory of a Dancing With The Stars win.
Before we go back into the archives, let's take a look at her more recent moves.
Getting Down On Fuller House
Before we go into the archives, let's look at a more recent clip. During an episode of Fuller House she got down with two real-life Dancing With The Stars dancers, Maks and Val Chmerkovskiy, and she really held her own. That's definitely a good sign of things to come. Now, let's take a trip down memory lane.
Her Glorious Love Shack Performance
Watching this is a little painful because one can't help but put themselves in those little shoes, dancing, as a kid, on a stage — it's more than a little terrifying. But, after you get over that trauma, you can see that she's doing pretty well. The telethon crowd is feeling it, clapping along, and she looks like she's having a good time, which is what counts, right?
This Motown Philly Chorus Jam
Even though she's one of many identically dressed little girls, she steals the show.
When She Was The Star Of Her Birthday
Stephanie did not hesitate to put herself front and center during this little number in her birthday episode. She's not just good; she knows she's good.
This Crazy Dream Sequence
If you're not up on your Full House archival knowledge, you might want to go back and watch this episode, because it is great. The dream sequence where Stephanie becomes a broadway star can only be taken as foreshadowing.
Stephanie, aka Sweetin, clearly has a proven record of show-stopping dance performances, and she's only gotten better with time. I feel sorry for anyone up against her, and it should make for an exciting season.