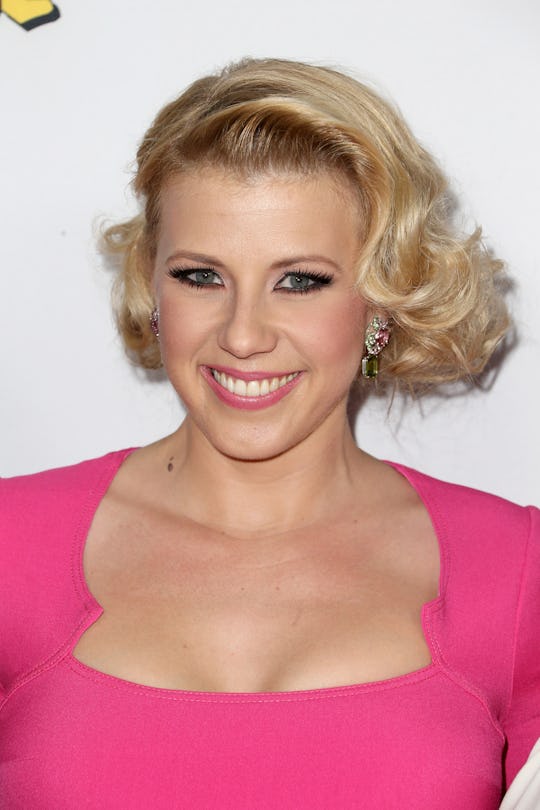 Frederick M. Brown/Getty Images Entertainment/Getty Images
Videos Of Jodie Sweetin Singing Show She's Seriously Multitalented
After two decades, some things have stayed the same about Stephanie Tanner. On Fuller House, she still sports long blonde hair and isn't afraid to say, "How rude." But now, Stephanie is a disc jokey (or a D.J.), traveling the world to play music before settling in to help her sister. The series also affords her the opportunity to revive one of her lesser-known skill sets: singing. In the first episode of Fuller House, Stephanie joins Uncle Jesse in a rendition of "Forever" from the original series. Videos of Jodie Sweetin singing reveal that the surprise serenade isn't her first foray into music.
Originally a Beach Boys song, "Forever" played multiple times on Full House. Perhaps the most memorable moment was Jesse Katsopolis' performance of the hit at his wedding, according to the Full House Wikia. So, when the song reemerged for Fuller House, fans were definitely delighted. Sweetin's beautiful vocals on "Forever" stunned listeners; some even wondered whether it was really Sweetin singing. Evidence from the Internet suggested that she definitely has the pipes to carry a tune, and she actually got her start singing early. As a little girl, she donned a frilly dress for an Oscar Mayer commercial and performed the company's iconic jingle:
On Full House, Sweetin spent time as a member of fictional band Girl Talk. Coached by Uncle Jesse, she and her friends performed "I Saw the Sign." The music was good, but, true to sitcom form, the show had a few (intentional) glitches:
Now that Sweetin is all grown up, she owns the stage. In November 2015, video of her singing at Peace Jam 2015 appeared on YouTube. She covered "These Boots Are Made For Walking" with, among other band members, John Stamos!
Sweetin posted a clip from the benefit to Instagram. She also included a photo from Peace Jam captioned, "Had so much fun singing last night while @johnstamos and Lanny Cordola played guitar at #peacejam2015 for #miraculouslovekids!! What a great night for a great cause!! Hair and makeup@terimakeup." Between the leather pants and the sultry performance, she definitely looked like a rockstar.
Of course, Sweetin hasn't totally abandoned her gentler side. During a February appearance on The Tonight Show, she and her Fuller House costars sang a partial rendition of the original Full House theme song. They certainly sound good together!
Whether you prefer Sweetin's vocals soft, sexy, or Stephanie Tanner-level sweet, it's good to hear her singing again.