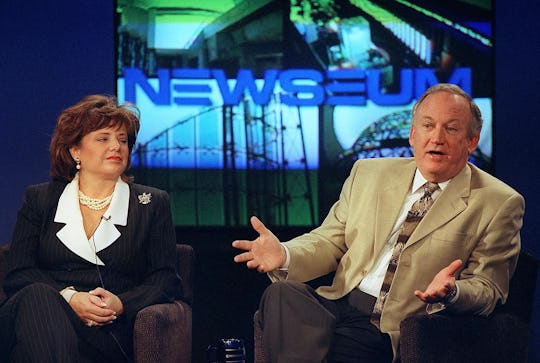 MARIO TAMA/AFP/Getty Images
Videos Of John Ramsey Addressing JonBenet Show How Public Opinion Has Shifted
The Case of: JonBenét Ramsey premieres Sunday, Sept. 18th and while the CBS docu-series plans to go back over all the evidence from the Christmas 1996 murder, one since-exonerated suspect will surely get a lot of attention. A huge part of the media circus surrounding the JonBenét Ramsey murder case was the suspicion of her family as the culprits. Both her parents, John and Patsy, and her nine-year-old brother, Burke, were considered to be suspects at one point or another, and since DNA evidence exonerated them all in 2008, videos of John Ramsey addressing JonBenét are heartbreaking.
It's important to note that, in addition to being exonerated after new testing methods determined that trace DNA found on JonBenét's body came from an unidentified male unrelated to her, no one in her family was ever charged with the murder. Unsealed court records revealed that a grand jury had voted to indict her parents on counts of Child Abuse Resulting in Death and Accessory to a Crime in 1999, but the district attorney at the time refused to file charges. Her brother Burke was never formally pursued as a suspect, either.
Videos of John Ramsey addressing his daughter over the years have shifted from a father on the defensive to a more peaceful man who acknowledges that he may never have the answers he wants. Here's how the evolution unfolded.