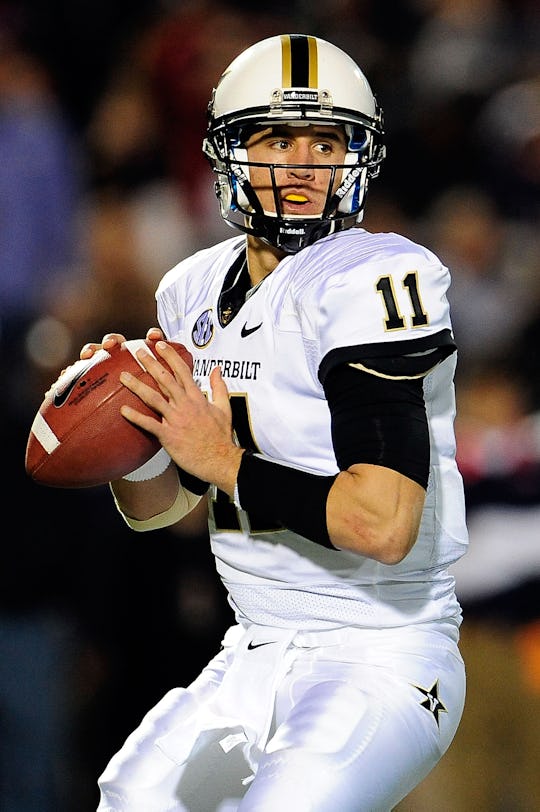 Stacy Revere/Getty Images Sport/Getty Images
Videos Of Jordan Rodgers Playing Football Prove He Knows How To Win 'The Bachelorette'
Bachelorette contestant Jordan Rodgers isn't just another face in the sea of reality show contestants — he's got some serious skills in his arsenal too. In any other season of the popular dating show, Jordan might have run into some pretty fierce competition with men who could boast of high qualifications and fancy job titles. But even though this year's pool is loaded with plenty of fantastic candidates, watching one or two videos of Jordan playing football is all it takes to convince you that he's grade-A, all-American, Bachelorette material.
In fact, if Jordan doesn't make it to the final three, I'll be highly surprised. Not only does he come from a well-known family (thank you, brother and Green Bay Packers quarterback Aaron Rodgers) and therefore knows how to handle public dating pressures, he's clearly adept at reading the field — pun intended.
While most people simply know him as "Aaron Rodgers' brother", Jordan is actually a talented football star in his own right. After a successful stint as Vanderbilt University's quarterback from 2010 to 2012, during which he maintained some of the school's highest ever stats and made the 2012 Unitas Award Watch List (he also made SEC Academic Honor Roll each year to boot), Jordan was drafted as an unsigned free agent into the NFL, where he was on the roster with the Jacksonville Jaguars, The Tampa Bay Buccaneers, and the Miami Dolphins.
These days, Jordan is playing a different kind of field, of course. And when The Bachelorette premieres on May 23, he'll be more than prepared to take on that challenge too — just take a look at him back in his football days to see what I mean:
Florida vs. Vanderbilt (2011)
While Vanderbilt went on to lose the game to the University of Florida in the last few minutes, Rodgers managed to score a few long passes and even ran one of the team's three touchdowns into the end zone himself. If he can pull off this close of a game, the other bachelors would do well to consider him as one of Season 12's fiercest competitors... and play defense accordingly.
Ole Miss vs. Vanderbilt (2012)
This season's Bachelorette competitors had better watch their backs: Jordan Rodgers knows how to sneak up from behind and win the game at the last second, the way he did during Vanderbilt's away game at the Ole Miss in November 2012 — and he's so smooth, you'll never have seen it coming.
Kentucky vs. Vanderbilt (2012)
Want to know how shut down the competition? Just ask Jordan and his teammates, who deftly handed the University of Kentucky Wildcats a 40-0 loss in 2012, with Jordan scoring two prized touchdown passes himself. Competitors beware.
Vanderbilt vs. Auburn (2012)
Just when you thought it was safe to assume Jordan was a lonely competitor, he goes and surprises you with this gem of a win against Auburn in 2012, during which the quarterback teamed up with star running back Zac Stacy to take the home-game win 17-13. Bachelorette men, you may want to form an alliance with this one — and fast.
Vanderbilt Highlights (2011-2012)
As Jordan's Vanderbilt Commodores highlight reel shows, he's not just a one-play kind of guy; At the very least, he's got plenty of tricks up his sleeve and knows when to work with a team and when to carry the ball down the field all by himself. Whether he wins The Bachelorette this season or not, it looks like he's got plenty of acquired skills from over the years to more than attract scores of his own admirers.