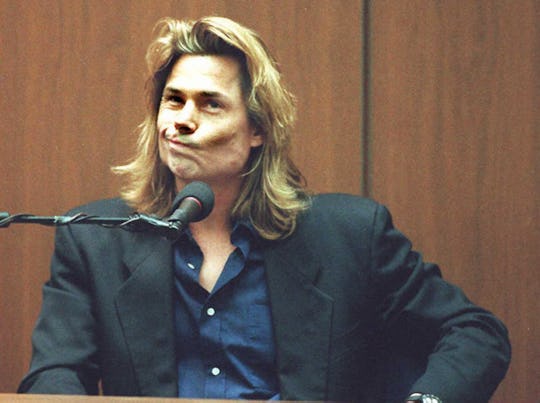 AFP/Getty Images/AFP/Getty Images
Videos Of Kato Kaelin At The Real O.J. Simpson Trial Are Online, & They're Definitely Worth Watching
If you were living under a rock during the O.J. Simpson trial (or if you were too young to follow along at the time), then not all of the names associated with the so-called "trial of the century" will sound familiar. FX's The People v. O.J. Simpson: American Crime Story might be helping to fill in the blanks — I'm learning so much than I ever thought I would need to about Johnnie Cochran, Marcia Clark and the Roberts Shapiro and Kardashian — but one person we haven't heard much from yet? Kato Kaelin. While the episode featuring one-time O.J. Simpson houseguest Kaelin (played by Billy Magnussen) has yet to air, videos of Kato Kaelin at the O.J. Simpson trial are online — and are definitely worth checking out if American Crime Story has piqued (or re-piqued, as it may be) your interest in the Simpson case.
At the time of the deaths of Nicole Brown Simpson and Ron Goldman, Kato Kaelin was living in O.J. Simpson's guest house — a detail which catapulted the then-unknown aspiring actor into the spotlight as a key witness in the Simpson trial. According to People, Kaelin became friends with Nicole Brown Simpson after they first met in Aspen in December 1992. He was reportedly short on money at the time, so Brown Simpson agreed to let him live in the guest house of her rental home, charging him $500 in rent, and some occasional babysitting of her two kids with Simpson, Sydney and Justin. He later moved in with O.J. Simpson after Brown Simpson purchased a condo, and lived with the former football player free of charge (until, of course, Brown Simpson was killed and Simpson was charged with her murder).
Kato Kaelin became an unlikely celebrity after taking the stand as a witness in the case, and also received a lot of flack from the media, earning a reputation as a sarcastic, out-of-work, freeloading slacker. Kaelin was grilled by both the prosecution and the defense while on the witness stand, with both sides hoping that he would provide some kind of information that would help their respective cases. But watching the video of some of Kaelin's testimony, he just seems incredibly (and understandably) nervous — and you kind of can't help but feel for him.
Thanks to the magical wonder of YouTube, Kaelin's testimony has been compiled into an almost 16-minute clip which gives a pretty good understanding of the role he played in the case. Wondering what Kaelin has been up to since then? YouTube has that answer as well (one answer at least is that he's clearly cut off his glorious '90s mop).
So far, American Crime Story: The People v. O.J. Simpson has done a pretty great job depicting the well-known murder trial, and the intricacies in the case that are so key to understanding why it played out like it did. So although these videos provide a pretty good foundation to the role that Kato Kaelin had in the case, seeing Magnussen's take on Kaelin will surely be valuable — and likely pretty entertaining too.