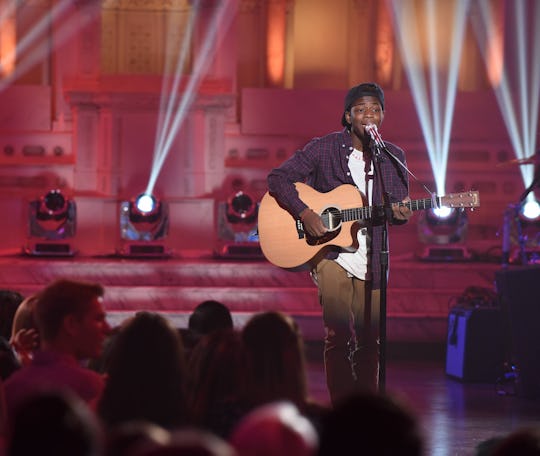 Fox
Videos Of Lee Jean Singing Will Convince You Exactly Why The 'American Idol' Contestant Is Going To Be A Star
There are still several weeks left to go over on the Farewell Season of American Idol, but already there have been a number of stand-outs in the sea of talented faces. One of those outstanding contestants is Lee Jean, a 16-year-old from Bluffton, South Carolina who not only plays his own instrument, but can seriously rock the big stage as well, despite his age. In fact, videos of young Lee Jean singing acoustic and hip hop covers over on his YouTube page alone should be enough to convince anyone that the kid is going to be a star someday.
Jean has made it a long way since his original Farewell Season audition in Atlanta, Georgia: Between thrilling judges Harry Connick Jr., Jennifer Lopez, and Keith Urban, along with the rest of the audience members from week to week, Jean has managed to make a few special friendships with his competitors, specifically one Sara Sturm, 18, from Centreville, Virginia. ("This is the best friendship ever, I swear," Sturm joked to Jean after the two made it through to Hollywood Week in early February.)
Aside from just being an all-around sweet kid and good-natured competitor, Jean has more than enough talent to keep him afloat throughout the last few rounds of competition, if he plays it the right way. Not convinced, even after tuning into Idol? Check out videos from Jean's official YouTube page and be blown away.
"I Forget Where We Were" (Ben Howard)
Jean nailed this cover of Ben Howard's hit "I Forget Where We Were" while playing at a lounge in Hilton Head, South Carolina this month, giving the song just the right amount of timidity to make it his own.
"Volcano" (Damien Rice)
Jean and friend Hannah Lyndsay Lane (who pulled off an impressive imitation of Irish singer Lisa Hannigan) serenaded crowds in his home state with this rendition of acoustic king Damien Rice's "Volcano." Although Rice's version may have the maturity the lyrics require, you can't deny that Jean gave the song a youthful sheen that kept you engrossed in the moment. Right?
"I See Fire" (Ed Sheeran)
Not sure why he's shirtless in this one, but we're just gonna let that slide for now, given how great Jean sounds. Sure, he's got some growing to do, but if this is his skill-set at 16, can you imagine how amazing he's going to sound in two years? Rock on, kid. Rock on.
"Pound Cake" (Drake)
Um... did anyone else know Lee Jean could rap? Because I didn't. It's notoriously difficult to cover any hip hop piece, let alone cover a Drake song with the right amount of confidence and casualness. Of course, it appears Jean can do both, giving his fans a refreshing break from his many acoustic covers to play around with something different.
"Ordinary People" (John Legend)
I mean, just look at how adorable he is. I can't.
"After Tonight" (Justin Nozuka)
"After Tonight" by Justin Nozuka is a curiously difficult song to cover, despite its outward appearances. Obviously, a then-14-year-old Jean covered it incredibly well back in 2014, putting people twice his age to shame with his upbeat version of this 2007 hit.
"Make It Rain" (Ed Sheeran)
Okay, so this one is technically not from his YouTube page, but his stint on American Idol so far... but can you blame me for keeping it on the list? Color me impressed.
Whether Lee Jean makes it to Idol's top 7 or not, it seems that he's got enough talent in the bank to take him very far in the music world — and either way, there will undoubtedly be plenty of people there cheering him on.