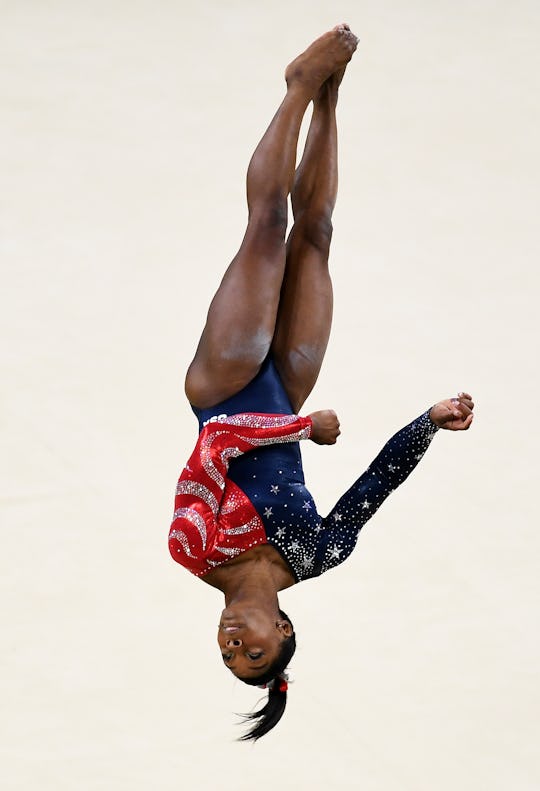 David Ramos/Getty Images Sport/Getty Images
Videos Of Simone Biles Competing In Rio Prove That She's The One To Beat
Even before the Olympics kicked off in Rio this summer, there was a lot said about a certain 19-year-old gymnast from Ohio. Simone Biles has been called "the top gymnast in history," and she's already set a couple of records for winning the highest number of gold medals ever at world championships and winning three all-around titles in a row there, according to The New York Times. Now, videos of Simone Biles competing in Rio have emerged online, and they're definitive proof that she's going to be the gymnast to beat in 2016.
Admittedly, my standards for good gymnastics are low (I once fractured my tailbone by trying my hand at a cartwheel, and I had to use a butt pillow that had "FOR HERNIAS" printed all over it it) but Biles goes above and beyond anything I've seen at the Olympics before. And past Olympians aren't holding back the praise, either. Nastia Liukin, the 2008 Olympic all-around champion, told NBC:
She's the best gymnast that's ever lived on the women's side for sure. She's the most talented gymnast I've ever seen in my life and obviously the Olympics will seal the deal.
Shawn Johnson, who competed alongside Liukin, echoed her teammate's sentiments. "[Biles] makes me so glad I retired!" she told NBC. "It's really humbling. I literally watch her and I'm just in awe."
Don't believe me? (Or the Olympic athletes?) See for yourself:
I mean, look at her go. She is a 4-foot-9 powerhouse, and she seems to enjoy every second of it. "If I thought of gymnastics as a job, it would put too much stress on me," she once told Teen Vogue. "At the end of the day, if I can say I had fun, it was a good day." It seems like she's living by those same rules at the Olympics.
Needless to say, Biles qualified for the all-around final after putting on a show in Rio. Biles was not only the top qualifier for the all-around final, but also for the upcoming balance beam, vault, and floor events, according to NBC. And not only did her talent earn her top scores, it earned her a whole lot of love from the public.
Overall, the American team earned the highest team qualifying score by nearly 10 points, and both Biles and teammate Aly Raisman will be heading to the all-around finals. (Raisman and Biles edged out Gabby Douglas, the 2012 Olympic champion, ushering in a new round of American gymnastic winners for 2016.)
Clearly, this is the year of Simone Biles. Everyone other gymnast: I'm very sorry, you've done much better than my one ill-advised cartwheel, but you can pack it up and go home now.