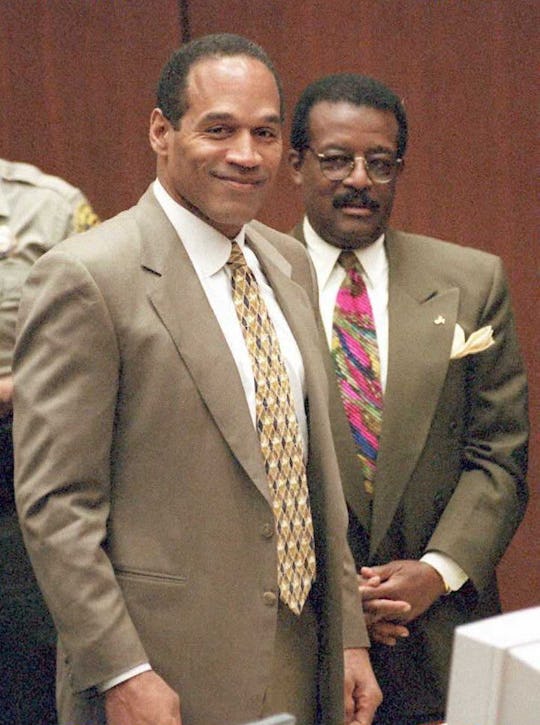 RICK MEYER/AFP/Getty Images
Videos Of The O.J. Simpson Workout Tape, Because It Played An Important Part In The Trial
The entire O.J. Simpson trial is like a dark cloud over the legal system. So many things occurred during the trial that became an example of what to do, and what not to do during a case. Every piece of Simpson's life was used as evidence, some things worked towards the defenses advantage (the glove not fitting), and other things were brought into the courtroom to help the prosecution's case. One of those things was the workout video O.J. Simpson made just weeks before the murders of Nicole Brown Simpson and Ron Goldman occurred (for which Simpson was found not guilty).
The New York Times notes that the prosecution brought the video into consideration in hopes of proving "how agile and physically fit Mr. Simpson was, notwithstanding his long list of football injuries and two kinds of arthritis." Meanwhile, the Times also notes that, "defense lawyers will counter that the tape proves just how infirm Mr. Simpson was, however fit he looked." It's just a matter of perspective, but the video did make it into the courtroom for all to see.
The video — called O.J. Simpson Minimum Maintenance: Fitness for Men — makes a quick appearance Episode 9 of The People v. O.J. Simpson, which might peak your interest in just what the video had to offer. Well, wonder no more.
In the video, Simpson and a handful of fitness enthusiasts perform a rather slow set of cardio moves. As you'll see, Simpson is rather chatty during the entire video, which, if anything, speaks towards his cardiovascular strength, I suppose. It's a pretty slow moving video, but — according to Simpson — is great for getting that "physical exercise."
The VHS tape — this was the '90s — of the video is available on Amazon for just around $4.00. It currently has five stars on the site, but one of the reviews is recommending it as a gag gift, so I wouldn't run out and buy it if you're really looking to change your fitness.