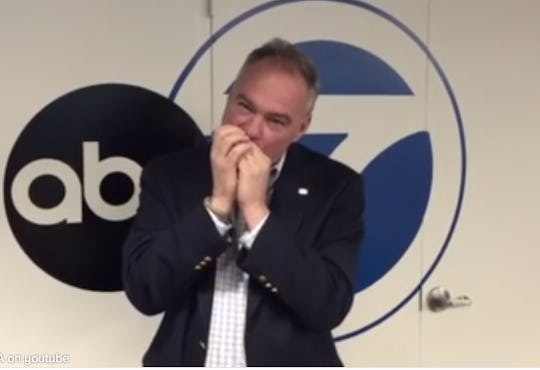 ABC7 WJLA/YouTube
Videos of Tim Kaine Playing The Harmonica Are Something Voters Need To See
Politics isn't all about policy and rhetoric. It's also about the person — their family life, their hobbies, and how they can connect with their voter base on a human level. Which is why voters should probably check out the videos of Tim Kaine playing the harmonica. Yes, that's right, America. The presumptive Democrat nominee for vice president plays the harmonica. Often. And in public. The Virginia senator has a lot of personality. Many have called Kaine "boring," but anyone who jams on a harmonica, it seems to me at least, has a little something in him.
Recently, he played on stage at the American Ireland Fund in Washington. Kaine is Irish Catholic and told the crowd that his interest in music has a lot to do with his roots. He is also pretty serious about it. At the dinner, he did versions of Johnny Cash's "Folsom Prison Blues" and Bob Dylan/Old Crow Medicine Show's"Wagon Wheel." There's pretty much nothing more country than that. According to Kaine, he's played the instrument for over 20 years and he has used the skills on the campaign trail before, most notable while running for governor in 2012. I'm seriously crossing my fingers for some performances during the general election campaign leading up to November.
Just in case, here are some previews:
He obviously really enjoys it (and who doesn't love a little bluegrass now and again?) and doesn't shy away from hopping on stage for a jam session anywhere he is. He even has a sense of humor about it. He caption this picture, meme-style, "When you can't decide which harmonica to play at tonight's American Ireland Funds Gala #AIFGalaDC16#HarmonicaProblems."
I mean, harmonica problems? How can anyone call this guy boring? You might not agree with some of his politics — he's very pro-gun reform, very anti-choice when it comes to abortion and women's reproductive rights. And yes, he is another white male running for office. But he has traveled to Honduras as a missionary, speaks Spanish, and is (hopefully) almost scandal-free. At least, at the very least, we know he has a little soul.
That's something Clinton seems to respect. Her husband famously plays the saxophone, going so far to even play it on MTV and on The Arsenio Hall while he was running for president in 1992. Some political insiders attribute Clinton's win to those performances — it made him look human (and even goofy with those sunglasses on).
Clinton's campaign team would do well to let Kaine off of the leash a little bit during the election and let him do his thing. It might endear him to voters, or at the very least, result in some great Twitter jokes.