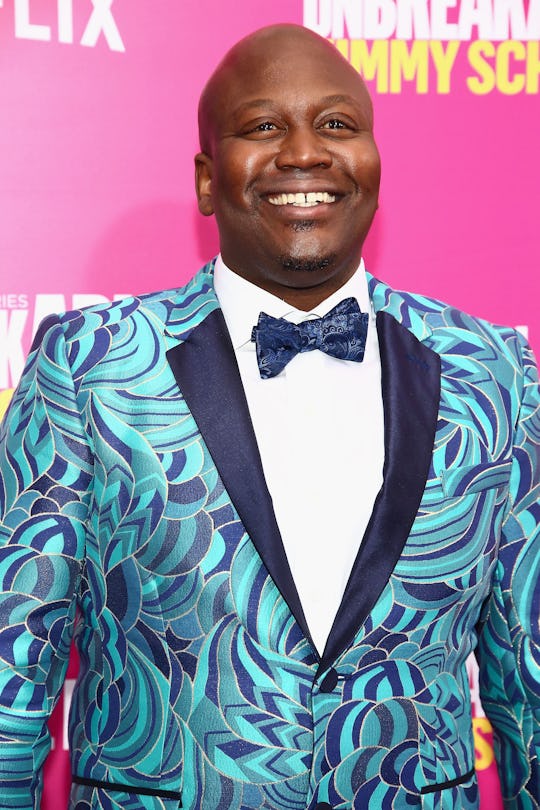 Astrid Stawiarz/Getty Images Entertainment/Getty Images
Videos Of Tituss Burgess Singing On Broadway Will Make You Cry Tears Of Joy
You might have thought that Unbreakable Kimmy Schmidt actor Tituss Burgess is at his best playing Titus Andromedon in the acclaimed Netflix comedy, but you'd be wrong, because videos of Tituss Burgess singing on Broadway — or anywhere, really — will make you cry, and I mean that in the best way possible. The 37-year-old actor appeared in four Broadway musicals before being cast in Schmidt, and videos of him belting out songs from various Broadway shows are (thankfully) easily accessible on YouTube.
Burgess, who's known for his soulful, penetrating tenor voice, scored his first Broadway role back in 2005, playing Eddie in Good Vibrations. He subsequently played leading roles in Jersey Boys (2005), The Little Mermaid (2007), and Guys and Dolls (2009). In 2011, Burgess started his recurring role as D'Fwan, a "style advisor" on NBC's 30 Rock, the late, great hit comedy from comedian Tina Fey. Burgess clearly made an impression, because when Fey created Schmidt in 2014, she basically wrote a character just for Burgess. "She's my fairy godmother," Burgess said of Fey in a 2015 interview with Out. In his role as Titus Andromedon, Burgess has plenty of opportunities to use his singing voice; The character is a broke Broadway "wannabe."
But you don't need to watch Schmidt to see Burgess sing. You could instead watch this amazing video from 2013's Broadway Backwards, in which Burgess performs And I Am Telling You from Dreamgirls. It's not an exaggeration to say that you will experience at least 10 different emotions during this 8-minute marathon of ensemble genius.
If you're looking to enjoy Burgess in a less sympathetic (but still totally heartwrenching) role, check out this video of him singing Stay With Me as the Witch in Into The Woods:
And then there's this: Burgess making everyone laugh, then cry, then sit in stunned silence, while singing Part of a Painting at the Zipper theatre back in 2008. (And he's reading it FROM THE SHEET. He doesn't even know all the words!)
If you're looking for a little comedy (and some dramatic irony, too) to help you dry all your tears, check out Burgess' amazing duet with Tina Fey, performed earlier this month at the annual MCC Theater Miscast Gala in New York. The two sang You're Nothing Without Me from the musical comedy City of Angels; The song is about a screenwriter having an argument with a character that he created. Burgess takes the stage first, and when Fey starts to joins him, he says, "This isn't the time to try to take my moment." In response, Fey says, "Titus, I am your moment."
Yep, it's almost impossibly amazing. But then again, one would expect nothing less from Tituss Burgess and the woman who turned him into his alter-ego, Titus Andromedon. And whether he's Tituss or Titus, everyone's always happy to hear him sing—as long as they have a box of tissues at hand.