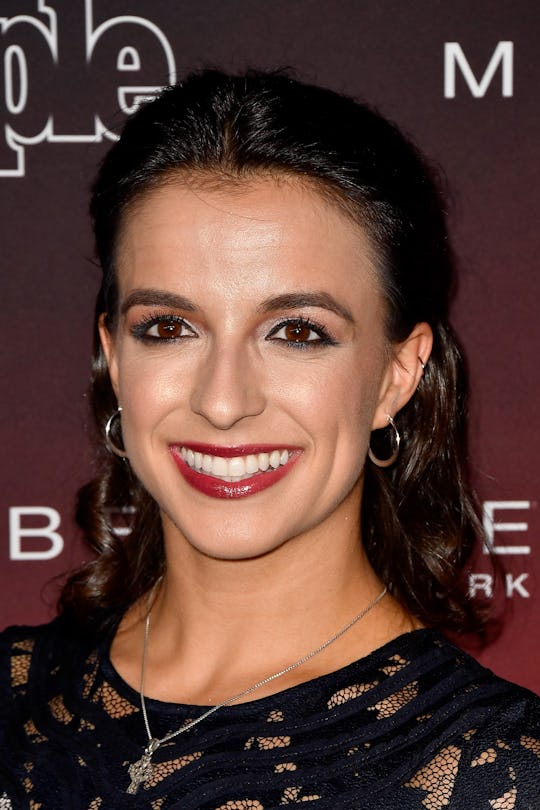 Frazer Harrison/Getty
Must-See Video Footage Of Victoria Arlen Swimming In The Paralympics
On the outset, it's hard to see the comparison between being a record-setting Paralympic swimmer and competing on Dancing with the Stars, but videos of Victoria Arlen swimming in the Paralympics prove that this DWTS competitor has what it takes to go all the way. It's pretty clear that this woman will do whatever it takes to make it to the very end, and she doesn't let anything stand in her way, not even not being able to feel her legs.
By now, I hope you're at least a little bit familiar with Arlen's incredible story. But if you're not, let me catch you up. Arlen fell sick at the age of 11. She soon slipped into a coma, and though she regained consciousness after two years, she was unable to communicate with anyone at all. Finally, she made eye-contact with her mom, and slowly regained the ability to speak and to move. However, the doctors told her that she would never use her legs again. But that didn't stop her from swimming. She had loved being in the water as a child, so when she woke up, she found that she still loved it and was still good at it. She went on to compete in the 2012 Paralympic games, taking home three silver medals, and a gold in the 100 meter freestyle, for which she also set a new world record.
Watching the video, it's clear that she was the frontrunner from the very beginning, and none of her competitors could stop her. She finished a full body-length ahead of the second-place swimmer.
Like on Dancing with the Stars, the Paralympic games gave Arlen an opportunity to compete with other athletes, though perhaps with slightly more pressure behind her. In some events she was the clear leader, while in others she was less favorited to win. However, what was very clear was that she was a gracious competitor, becoming friends with one of her top rivals.
This, by the way, was back in 2012 when Arlen was only 17 years old. This was also before she regained the use of her legs. Now, five years later, Arlen has relearned how to walk only a year and a half ago. Though she still does not have feeling in her legs, she is a serious contender on a dancing competition. And regardless of whether she wins or loses, she's made it very clear that she is going to try her hardest and give everybody else a run for their money.
In swimming, Arlen set world records for the 100 meter freestyle and the 400 meter freestyle. In the 2012 Games, she walked away with a gold in the 100 meter freestyle and silver metals in the 50 meter freestyle, 400 meter freestyle, and 4x100 meter freestyle relays. Personally, I would not doubt her ability to do literally anything at this point. One setback she experienced (of many) was that she was barred from further Paralympic games when it was ruled that she was not disabled enough, and this was before she had even regained the use of her legs. I don't know who makes these rules or why, but it doesn't seem to have slowed her down.
These days, when she's not smashing records, learning how to walk, or performing Cha-Chas alongside her partner Val Chmerkovskiy, she's one of the youngest regular reporters in ESPN's history, covering events like the X-Games and the ESPYs. According to her Team USA bio, she also has interests in acting and modeling as well as athletics. So who knows, maybe Arlen will show up in the world's next favorite show. Or maybe she'll be back in the pool to break more world records.
Watch Romper's new video series, Romper's Doula Diaries:
Check out the entire Romper's Doula Diaries series and other videos on Facebook and the Bustle app across Apple TV, Roku, and Amazon Fire TV.