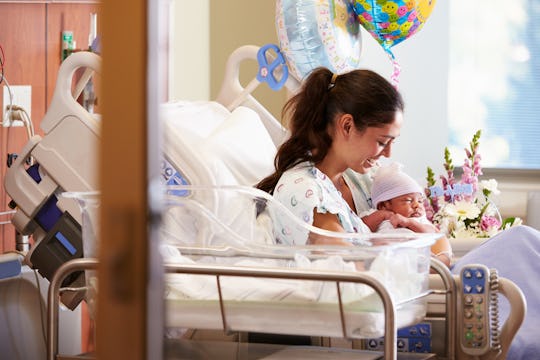 Fotolia
In The Labor & Delivery Gift Shop, Every Day is An Emotional Rollercoaster
When you're anxiously awaiting the arrival of a new baby — whether as a father, or grandmother, or uncle, or aunt — where do you go when you're tired of pacing the hospital halls? The gift shop, of course. For friends and family who make their way to Baby Joe's, the labor and delivery gift shop at St. Joseph Hospital in Denver, Colorado, the excruciating wait is nearly over — and it's not too late to pick up a "Rock Me All Night Long" onesie.
Pat Schraeder, a retired nurse, is a volunteer at Baby Joe's. For 38 years she worked in the NICU just down the hall, so she knows a thing or two about waiting for babies to arrive, and about waiting for babies to get well.
"It's a totally different dynamic," she says of the view from the gift shop. "In the NICU, you're dealing with parents who have sick babies, but in here it's kind of fun because grandparents wander in and out, and some are very chatty, and I hear their whole life history. I always ask, are you waiting for a baby?"
Usually, they are — excitedly, patiently, or nervously. Grandparents stop by to kill time during a fretful stretch, or to pick up a present when the wait is finally over. Fist-sized balloons planted like flowers in little cups are especially popular choices, Schraeder notes, as are the newborn onesies. She sees families in interstitial spaces: before, during, and just after one of the greatest events of their lives, and every emerging family dynamic is different.
The dads come in to rent pumps, or believe it or not, they go look at the bras.
Some new dads are taciturn, keeping their joys and fears to themselves, while others rattle off every detail of their baby's birth. Whatever they want to say, however they react, Schraeder's happy to listen.
"The dads come in to rent pumps, or believe it or not, they go look at the bras," she says. "And I always have to say, is mom mobile? Because if she is, we have a dressing room and she can come in and try it on."
Schraeder is probably right to be skeptical of a new dad's ability to pick out a maternity bra, but their bumbling is part of what makes them so cute. New fathers, overwhelmed by the events of the day, are trying to help mom out in any way they can.
Luckily, Baby Joe's is full of exactly those small things that can make life the tiniest bit better: there's an entire wall full of chocolate for exhausted new parents, and bright and noisy toys for siblings-to-be. But there are big things at Baby Joe's, too — or at least, objects that represent something big. A T-shirt announcing, "I'm a big brother!" A parenting book "just for dads." For many family members, Baby Joe's is their first experience shopping as a mom, dad, grandma, grandpa, brother, or sister, so it's no surprise that so many keepsakes, picture frames, and figurines glow with images of young families huddled around each other, as if for warmth.
"I love it when little kids come in here," says Schraeder, remarking that the Sesame Street sign acts like a beacon. "Oftentimes they're very excited, and I learn what the baby's name is, so that's kind of fun."
In fact, Baby Joe's may be the one place in the hospital where kids can touch things to their heart's content. Before they leave, children tend to turn on all the talking bears.
When they tell me they've got a little one in the NICU, I know how they feel, because I know if they've got a little teenie one, they're in for a long haul.
I ask if Schraeder still gets emotional at the thought of these new families welcoming their new babies. "I'm always happy for them," she says. "I always congratulate. And when they tell me they've got a little one in the NICU, I know how they feel, because I know if they've got a little teenie one, they're in for a long haul."
Indeed, for NICU parents, the gift shop is an entirely different place. The rental pumps take on an added importance, and moms of premature infants often stop by in search of something to brighten up their hospital room.
Schraeder has five children and eight grandchildren. For each of them, she bought (or kept) a baby book, which is her favorite gift sold at Baby Joe's and the best way, she feels, to capture the transformative early days. How else will you remember details like your baby's height and weight half a century on?
"But we have a lot of great gifts," Schraeder says, and all proceeds benefit the hospital. "So feel free to spend your money!"
In the scheme of things, the time families spend in the hospital is short compared with the life ahead, and the hospital gift shop is a pit stop on that journey. Between their pastel covers, the baby books are thick with blank pages. Waiting for the shop to open and her shift to begin, Schraeder is beaming.
You'll never forget the birth of your child, but what does everyone else who was there remember? Find out with more from Romper's look at birth, Stork's Eye View.