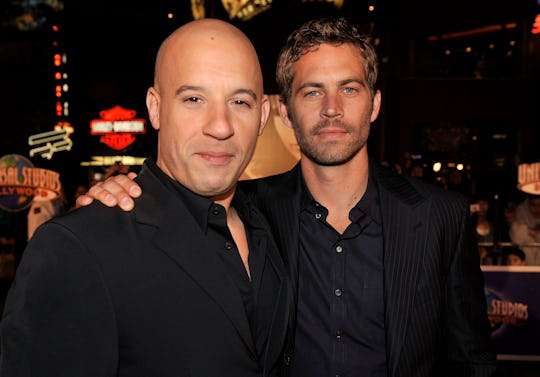 Kevin Winter/Getty Images Entertainment/Getty Images
Vin Diesel's Tribute To Paul Walker At The MTV Awards Was Short But Sweet
When Paul Walker tragically died in a car crash in 2013, many wondered how The Fast and the Furious franchise would continue on. Walker and Vin Diesel, his real-life close friend, had starred in most of the movies in the series together. But the films continued on without Walker, and the ending of Furious 7 (Walker's last) featured an emotional tribute and farewell to the late actor. Given the closeness of the movie's actors (and particularly, Diesel and Walker) many fans were wondering what Vin Diesel's tribute to Paul Walker at the MTV Movie & TV Awards would be when The Fast and the Furious cast accepted the Generation Award at tonight's ceremony. His emotional remarks certainly didn't disappoint.
Wonder Woman's Gal Gadot took the stage to present the Generation Award to the Fast and the Furious franchise, marking the first time in the award show's history that this particular award was given to anything other than an individual actor. Obviously, the long-running series is well-deserving of that honor. It's consistently produced beloved hit movies, and the eighth film in the franchise, The Fate of the Furious was released just a few weeks ago.
Gadot called up Diesel and the franchise's producers to accept the award. The actor took the microphone, but before giving his remarks, he called for his fellow co-stars present to join him — a fitting move for a movie series that's, thematically, all about the bonds of family. Tyrese Gibson, Jordana Brewster (who played Walker's on-screen love interest), and Michelle Rodriguez joined him onstage. Diesel thanked their fans briefly for accepting and embracing their "multicultural franchise." He also recalled that years earlier, he and Walker had been up there together onstage at the MTV Movie Awards and that he wouldn't have believed then that he'd be up there accepting the Generation Award on the franchise's behalf, so many films later.
Diesel mentioned Walker only briefly, closing out his short speech by remembering Walker as his brother, referring to him by his nickname, Pablo. "I could never stand on this stage or talk about Fast and Furious without giving love to my brother Pablo, our brother Pablo. We hope you're proud," the actor said of his late friend and co-star.
This isn't the first time that Diesel has honored his friend at this particular award show. At the 2015 MTV Movie Awards, the actor sang a few bars of "See You Again," the song written for Furious 7 as a tribute to Walker.
Don't mind me, I'll just be over here sobbing my eyes out.
It's incredibly touching to see how the franchise and the actors in it have managed to continue onward while still paying their respects to Walker, one of the actors who, from the beginning, made the series what it is today.