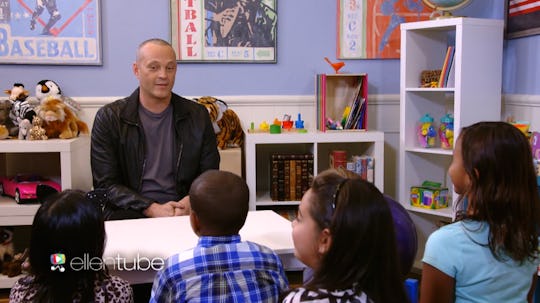 Vince Vaughn Asks Kids What They're Thankful For On 'Ellen' & The Conversation Is Adorable
It's almost Turkey Day, so don't blink, or you might miss Thanksgiving episodes airing pre-25 days of Christmas. "Wedding Crashers" star Vince Vaughn took a moment to appreciate the frequently glossed over holiday this week when Vince Vaughn asked kids what they're thankful for on Ellen. The actor, met with five bright-eyed little ones, sat down in a classroom setting to really get down to the core of the holiday. Vaughn acted like a Bad Santa, or in this case, Bad Pilgrim, when questioning the kids.
"It's getting to that time of year, what are some things you're thankful for?" he asked. "My family and friends" a little boy responded. Vaughn immediately shot down the boy's answer, "boring, but okay" he retorted unamused. Going a little off the rails, "let's talk about the good stuff like toys" he said. After the kids rattled off a few things, "Prince Vaughn" then laid down some hard truths on the youngsters.
"Now let me tell you why you should be thankful for your parents. Because your parents have to put up with your friend's parents. And guess what? They don't want to be. They don't have anything in common...So be thankful that your parents are putting up with some boring people because they want you to have a nice day."
Vaughn then went on to his next question, asking the kids what the meaning of Thanksgiving is. He pretty much blew off little girl Violet's answer to give his own definition.
"...Thanksgiving was [when] the people who settled here, and the people that were here already, the Native Americans, had a nice meal together, and shared some thankfulness. And you know what else happened?...Years later we can all be thankful 'cuz we get some casinos."
Vaughn continues, "We don't have to drive to Vegas anymore to gamble. We can do it right here. We can do a little Pechonga right here in California." The camera pans to a little girl's confused scowl. Vaughn's comments definitely contrasts anything the little girl would say. "You want to put paper to make paper" he affirms, before making the kids say it with him.
The Internship actor compliments them for all for having "a nice way of looking at things" then leaves them with the following advice: "You should do something to get something back... unless you go to Pechonga and get red hot."