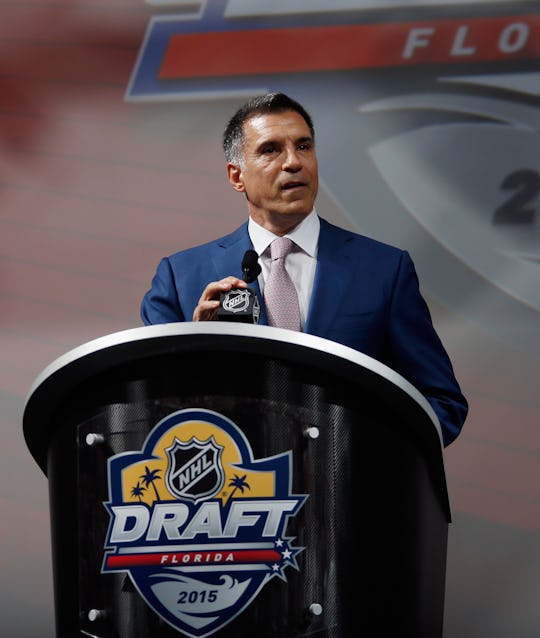 Bruce Bennett/Getty Images Sport/Getty Images
Vincent Viola's Net Worth Puts Him In Good Company In Trump's Cabinet
It goes without saying that President-elect Donald Trump has been a completely unorthodox candidate, and that it's likely his presidency will be a huge departure from what the country has been used to. That's already become pretty apparent in many of his Cabinet picks — while traditionally these roles go to individuals with proven government experience, many of Trump's choices have, like him, been short on actual political know-how, but have led successful business careers and have considerable fortunes. And the billionaire Trump has chosen as his army secretary is certainly no different. Vincent Viola's net worth has been estimated at approximately $1.79 billion, according to Forbes, though it could be even higher: according to CBS News, The Bloomberg Billionaires Index lists Viola's net worth at $2.3 billion.
According to PBS, the Brooklyn, New York, businessman is the founder of electronic-trading company Virtu Financial, and also owns the Florida Panthers hockey team. But he has a military background, too: Viola graduated from West Point in 1977 (he was the first in his family to attend college), and then served as an Airborne Ranger infantry officer in the 101st Airborne Division before graduating from New York Law School in 1983. That combination of business and military experience will likely serve him well in his new role, since, according to Forbes, Viola will "essentially serve as the CEO of the Department of the Army," if he is confirmed by the Senate, and will be responsible for managing "Army policies, programs and budgets."
According to CBS News, Trump spoke highly of Viola in a statement following the announcement:
Whether it is his distinguished military service or highly impressive track record in the world of business, Vinnie has proved throughout his life that he knows how to be a leader and deliver major results in the face of any challenge. He is a man of outstanding work ethic, integrity, and strategic vision, with an exceptional ability to motivate others.
Viola made the bulk of his current fortune as a result of starting Virtu Financial in 2008, according to Forbes, but prior to that he worked as a trader in the New York Mercantile Exchange (he became chairman from 2001 to 2004). In 2003, Viola also went back to West Point to establish the research-based Combating Terrorism Center, which focuses on counterterrorism policy. According to Business Insider, Viola is the son of Italian immigrants, and in a statement, Trump's team referred to him as "living proof of the American dream."
Despite Trump's ringing endorsement, the president-elect's Cabinet has been criticized for being overwhelmingly composed of rich, white men. In fact, according to The Guardian, if all of Trump's picks are confirmed by the Senate, he will have the richest Cabinet in history. According to Bloomberg, Trump's Cabinet currently includes more men than President Obama's Cabinet, and far more white people than both President Obama and President George W. Bush chose. The majority of the Cabinet members in the past two presidencies also had government experience — compared to only 44 percent of Trump's picks — and neither president's Cabinets included a single billionaire. But that doesn't mean they weren't criticized: according to The Guardian, President Bush's first cabinet was often referred to as his "team of millionaires" — even though the collective wealth of Trump's Cabinet will likely end up being about 50 times higher than that of Bush's.
Perhaps unsurprisingly though, this doesn't bother Trump in the slightest. In fact, according to Politico, he sees his billionaire Cabinet as a huge asset. At a rally in Des Moines, Iowa, earlier this month as part of his "Thank You" tour, Trump told the crowd that the fact that the people he has chosen are worth a lot of money is proof that they'll be good at their jobs:
One newspaper criticized me: 'why can't they have people of modest means?' Because I want people that made a fortune! Because now they're negotiating with you, ok? These people are giving up fortunes of income in order to make $1 a year. And they're so proud to do it.
But that view has surprised some of Trump's supporters, who voted for him to "drain the swamp," not realizing that he intended to fill it back up with billionaire businessmen. While many working and middle class Trump supporters are no doubt hoping that he is able to fulfill his campaign promises to improve their lives, at this point, it seems like a bit of a strange strategy. After all, as The Washington Post pointed out, most of Trump's Cabinet picks "live surrounded by a level of wealth that most Americans struggle to fathom." And while Trump may not want to point this out any time soon, they were also the ones who saw their own lives improve as the gap between the wealthiest and poorest Americans grew bigger and bigger over the years.
According to The Guardian, Wayne State University constitutional law professor Peter Henning said that Trump's nomination of business leaders with little to no government experience was practically unprecedented in the United States. And that while Trump is clearly pretty proud of that fact, it might not actually be a good thing for the average American:
I am always wary of people who say 'we have to run the country like a business.' Businesses aren't responsible for defense or caring for the elderly. Businesses are driven with one guiding principle – to make the most money – and that should not be the role of the government.
That's something Vermont Gov. Bernie Sanders definitely agrees with. According to The Daily Beast, Sanders recently appeared on Late Night With Seth Meyers and criticized the president-elect for his Cabinet choices:
[Trump] said, 'We are going to be standing up for working people. We are anti-Establishment.' Well, if the Cabinet he appointed of billionaires and millionaires is anti-Establishment, boy, I would hate to see what the 'Establishment' looks like.
But Sanders reminded voters that they should still expect Trump to have to follow through with his campaign promises:
He campaigned among working people, and he said, 'I'm the only Republican out there [who's] not going to cut social security, I'm not going to cut Medicare, and I'm not going to cut Medicaid.' Well you know, Mr. Trump, we're going to hold you accountable for those statements.
Of course, the fact that Trump has brought a lot of rich people on board to help him run the country isn't necessarily wrong or bad in itself. He could, after all, be right that successful business people could help fix some of the country's issues in a way that hasn't been done before. But as with so much about Trump's presidency, no one actually knows for sure at this point what he will do, or what the effects will really be. And that is unnerving for many Americans, to say the very least.