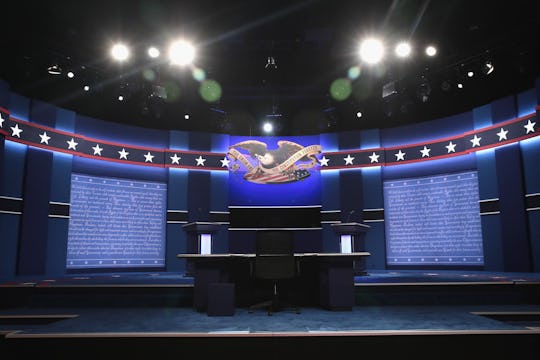 Drew Angerer/Getty Images News/Getty Images
Vine Of "Thanks A Lot, Bitch" Reporter At Presidential Debate Shows How Tense The Mood Is
During the first debate for the general presidential election, the candidates weren't the only ones getting feisty. During the media frenzy before the debate at Hofstra University, the world was introduced to a new viral video in the form of a Vine of "Thanks a lot, bitch" reporter. As if the tone for the evening wasn't already established, that moment made it clear it was going to be quite tense between the two candidates on the stage.
The reporter, Al Jazeera English's Kimberly Halkett, was apparently trying to get an interview with businessman and Shark Tank star Mark Cuban, according to Buzzfeed. But, to her great frustration, the video shows she was shoved out of the way by the rest of the crowd. Halkett was scolded by others, who told her to stop pushing. She tried to transfer the blame to another reporter behind her, saying, "She's pushing me." When no one seemed to care, that's when she lashed out with the country's newest catchphrase, "Thanks a lot, bitch." All that for Mark Cuban! You really have to wonder how she would have reacted if it was Hillary Clinton or Donald Trump she was fighting to see.
Unfortunately for the rest of us, that's where the video cuts off. It's unclear whether Halkett got the interview with Cuban. If the supposedly pushy reporter got the last word. If Donald Trump came out of the sidelines to intervene... But we do have this beautiful moment that now lives on in Internet glory.
On Twitter, people were quick to respond to the incident.
According to Halkett's bio on the Al Jazeera website, she is a Canadian native who has been covering news in the United States since the late 1990s—which apparently gave her enough time to trade "Canadian nice." Although she has not personally responded to the hubbub the video created, she did later post a photo from the press room at the debate.
Even as the night went on and the claws came out between Clinton and Trump, Halkett's star continued to shine pretty bright on social media — making some consider writing her in on the ballot in November.
Unfortunately, the major polls did not include her — but it seems safe to assume Halkett would be pretty tough on security issues if she's that tough when just trying to walk through a crowded room, although her diplomacy skills could use a bit of work.