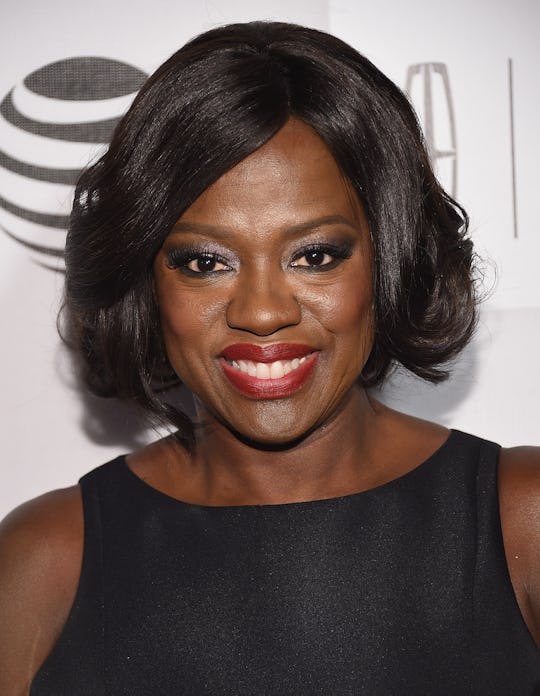 Dimitrios Kambouris/Getty Images Entertainment/Getty Images
Viola Davis' Parenting Comments Are Supportive & So Important For New Moms To Remember
In a culture that often seems hellbent on holding new moms to impossible standards, Viola Davis' recent parenting comments are supportive and so important for new moms to remember. Speaking in an interview with People this weekend, the trailblazing actress said that "you don't want to be judged by your worst mistakes. It's a part of life, and it's a part of what makes us who we are."
The interview was held during the Tribeca Film Festival premiere of Custody, a courtroom drama about a young single mom, played by Latina actress Catalina Sandino Moreno, who might lose custody of her two kids after a concerned teacher reports that her son arrived at school with a cut over his eye. In the film, Davis plays the judge, Martha Schulman, a complicated woman whose reaction to the case in influenced by struggles that she faces in her own life, including complicated relationships with both her husband and father.
The film clearly gave Davis a lot to think about on the topic of parenthood. In Custody, it turns out that the child's cut was caused by an ambiguously innocent push that resulted in a run-in with a glass table. The mom in question is imperfect, as comes out during the emotional custody case, but not necessarily unfit or abusive. "When you have a child, you want to be a perfect mother," Davis, who is 50, told People. "You feel like you have the absolute plan to be a perfect mother — and then you make a mistake, and we all make mistakes."
Davis, who is mom to 5-year-old daughter Genesis and stepmom to two children from her husband's previous relationships, has parenting experience of her own. Though she surely makes mistakes, just like everyone, her daughter probably has forgiven her—as clearly evidenced by the fact that Genesis dressed up as her mom this Halloween. Frankly, it just doesn't get more adorable than that.
And as Davis made clear in her interview this weekend, you don't have to be a perfect mom to be adulated by your children. "We all at some point lock our kid in a car by accident or lose our kid in the mall for 30 seconds or more," she said in the People interview. To prove her point, Davis elaborated that she knows "one girl who's a fantastic mother, [but] she lost her daughter in an aquarium for 30 minutes."
Indeed, this notion that mistakes are integral to parenting was the idea behind Custody. The film was produced by Davis' production company, JuVee productions, which she runs with her husband, actor Julius Tennon. Davis told USA Today that she was "instantly" compelled when she received the script because it realistically portrays the tragic complexities of women who become "trapped in the midst" of the social services system.
"I loved the blurred lines between what we deem a 'bad parent' who's caught in the system and a parent who's just doing the best they can," Davis said of the script. She added that there's a socioeconomic dimension to these types of court cases, telling USA Today that it's not uncommon for children to be taken from impoverished women, who must struggle between finding a way to get their kids back while also "making enough money so you can have a (home) the child can come back to."
Davis, who herself grew up in "abject poverty," said that she knew family members who had their kids taken away. She considers Custody to be an "unbiased assessment of the system"—the film also depicts the struggles of social service employees, who are doing "the best they can" with limited resources.
Clearly, Davis is someone who likes to show the world in its gray glory, rather than in black-and-white. She's a champion for moms—imperfections and all—and that's something that we can get on board with.