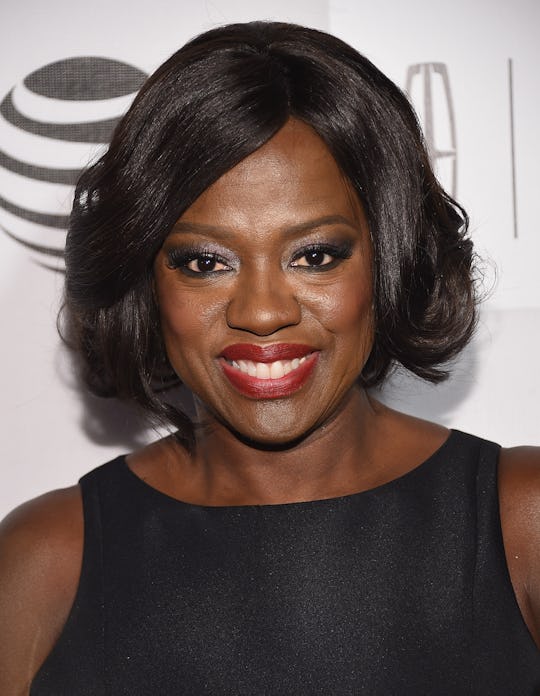 Dimitrios Kambouris/Getty Images Entertainment/Getty Images
Viola Davis Says Her Daughter Wants To Be An Actress, & Her Drive Is Already Impressive
Viola Davis epitomizes black girl magic. She's intelligent, strong, witty, beautiful, talented – and gave an epic unapologetically-black-Emmy-award-winning acceptance speech that deserves a lifetime of praise. She's brilliant, and, if it wasn't painfully obvious already, I'm a fan. But like myself, the many fans of Davis' around the world don't compare to her most important fan to ever exist: her 5-year-old daughter Genesis. Genesis, the daughter of Davis and her husband Julius Tennon, is a sweet, adorable little girl who clearly idolizes her mom. And as of recently, Davis said her daughter wants to be an actress. Well, with a boundary-breaking mom who made history by becoming the first black woman to win an Emmy award for outstanding lead actress in a drama series, who could blame her?
In an interview with E! News, the How To Get Away With Murder actress revealed that Genesis has some serious acting aspirations.
"She says she wants to be an actress. [She says], 'I gotta live the words, I gotta breath the words, I gotta remember the words,' and I said, 'Yeah and you also gotta go to school and get out of this house and pay your own rent.'...I just think this is a terrific profession. The work is fantastic, but the lifestyle? Eh. I don't want to choose that for her at a young age.
It sounds like Genesis may already have some of the work ethic needed to be successful down to a science. Remembering the words, and living the words, are key – and a pretty impressive perspective for a 5-year-old.
But this isn't the first time the world has seen Genesis admire her mom's work.
After Davis' historic Emmy win last September, she uploaded an adorable video of Genesis blowing kisses, telling her mom that she loves her, and wishing her more Emmy wins in the future. Seriously, it's possible to be that cute.
And if that mommy-daughter cuteness wasn't enough, for the following Halloween, Genesis dressed up as her mom – natural curls flourishing and all – as the first black woman to win an Emmy award for her respective category.
"So.....the Elsa costume?" Davis wrote in a caption on Instagram. "Didn't work for her. The Pirate? A no go. So she finally said, 'I just want to be YOU mommy!' So... uhh....this is ME."
In her E! News interview, Davis shared what it was like to have dreams of becoming an actress prior to her mega success:
I hoped, I dreamed but I didn't know. I just felt like the dreaming and the hoping would be enough and I think for the most part it is. I think that's what makes you get up in the morning and keeps you working and keeps you excited and in it and passionate and I think it's the passion that carries you through life.
Black women, women of color, face glass ceilings in all industries and career paths everyday. But if Genesis has dreams of becoming an actress, as her mom once did, then it's pretty empowering that she has so many black women to be inspired by, including her very own glass-ceiling-shattering mom. Go Genesis!